Titled "In Watermelon Sugar", the fair's 2018 edition will be curated by Niekolaas Johannes Lekkerkerk, who was also artistic director for POPPOSITIONS' 2017 iteration. Together with a jury consisting of curators Federica Bueti and Nicoletta Lambertucci, as well as Netwerk artistic director Pieternel Vermoortel and fair co-founder Pieter Vermeulen, Lekkerkerk has chosen 29 international exhibitors, including galleries, artists' initiatives and project spaces, hailing from Belgium, Canada, Colombia, Estonia, France, Germany, Hungary, Israel, Morocco, Norway, Russia, Spain, Sweden, Switzerland, the Netherlands and the United Kingdom.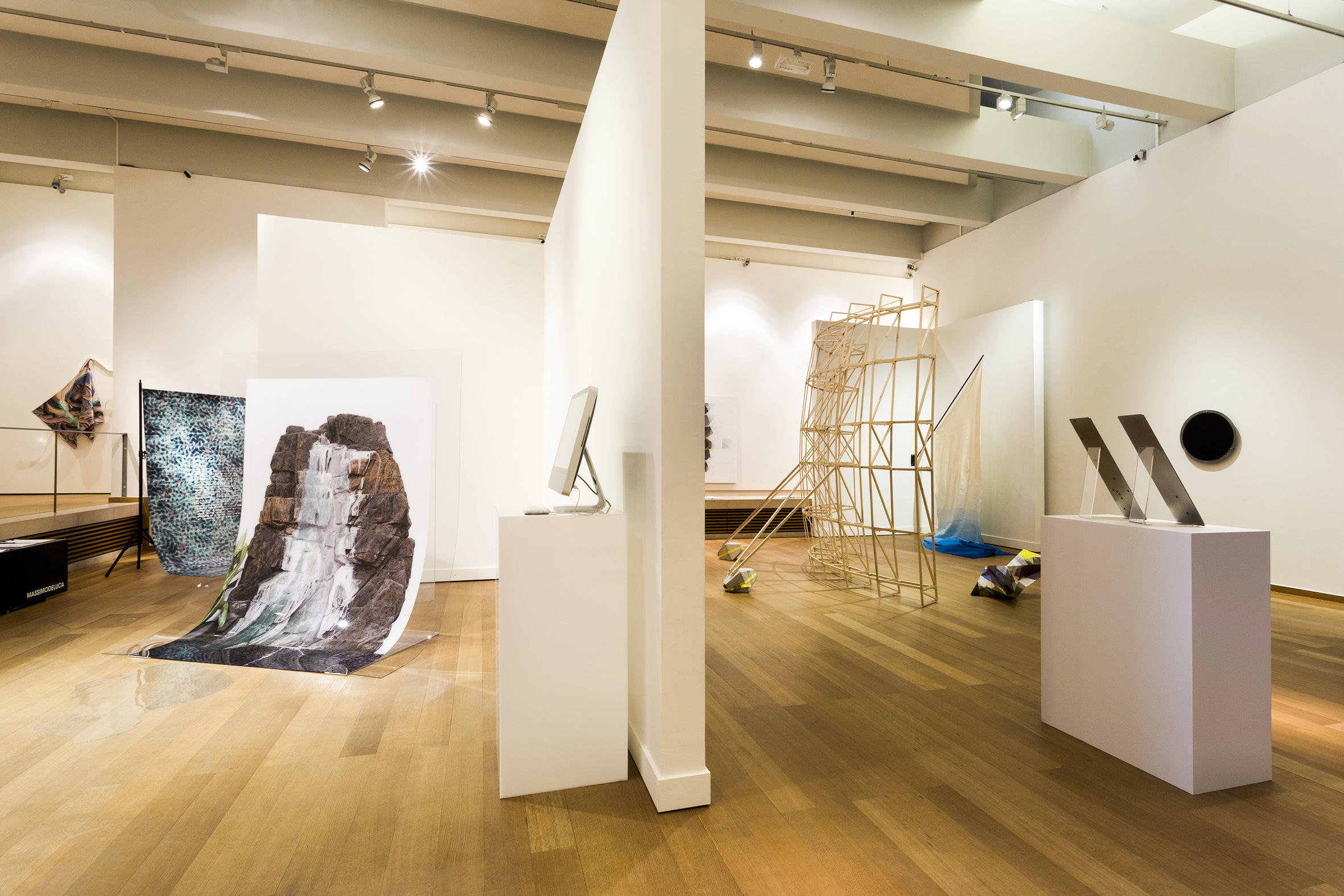 Courtesy POPPOSITIONS.
Participants include the London-based gallery Arcade, presenting works by Chiara Camoni; the office for artistic projects Laagencia (Bogotá), featuring artist Santiago Pinyol; gallery Chez Mohamed (Asnières, France), as well as the Brussels-based artist residency project SUPERDEALS. Solo shows by the 29 participants will be presented as a single, curated exhibition. This fair's 2018 edition, whose titled was borrowed from the eponymous, post-apocalyptic 1968 novel by Richard Brautigan, will focus on proposals addressing the current status of our world, as we are currently facing an unprecedented and rapid depletion of life forms as well as an increased instability of environments and ecologies due to the negative impact of fossil-fuelled economies. Proposals seek to provide approaches overcoming old world orders to establish "new grounds and imaginary horizons" within the capitalist ruins.
The full list of exhibitors and artists can be found below:
Alta Art Space (Rotterdam, NL / Malmö, SE)
Artist-run space
Angelica Falkeling (b. 1988, Sweden)
Arcade (London, UK)
Project space
Chiara Camoni (b. 1974, Italy)
Archiraar (Brussels, BE)
Gallery
Caroline Le Mehauté (b. 1982, France)
Billytown (The Hague, NL)
Artist-run initiative
Prosper Desmet (b. 1984, France)
Chez Mohamed (Asnières, FR/Taroudant, MA)
Gallery
John Miserendino (b. 1980, United States of America)
DIENSTGEBÄUDE (Zurich, CH)
Artist-run space
Brigham Baker (b. 1989, United States of America)
DISPLAY (Berlin, DE)
Space for art and curatorial practices
Chloé Delarue (b. 1986, France)
EKKM/Contemporary Art Museum of Estonia (Tallinn, EE)
Non-profit
Eléonore de Montesquiou (b. 1970, France-Estonia)
Formato Comodo (Madrid, ES)
Gallery
Joost Krijnen (b. 1983, The Netherlands)
Horizont (Budapest, HU)
Gallery
Nimova Projeckt (Veronika Romhány) (b. 1987, Hungary)
Josédelafuente (Santander, ES)
Gallery
Bernice Nauta (b. 1991, The Netherlands)
Kunsthalle Tropical (Zurich, CH)
Non-profit
Mars Alive (b. 1975, Switzerland)
Laagencia (Bogotá, CO)
Office for artistic projects
Santiago Pinyol (b. 1982, Colombia)
Lamart Offspace (Antwerp, BE)
Project space
Féline Minne (b. 1990, United Kingdom)
Lemow (Paris, FR)
Gallery
Anaïs Chabeur (b. 1992, France)
Loft Project Etagi (Saint Petersburg, RU)
Gallery
Johanna Van Overmeir (b. 1983, Belgium)
MAMA (Rotterdam, NL)
Platform for visual culture
Mat Do (b. 1982, United Kingdom)
narrative projects (London, UK)
Gallery
Carlos Noronha Feio (b. 1981, Portugal)
Podium Oslo (Oslo, NO)
Artist-run space
Miriam Hansen (b. 1988, Norway)
Rib (Rotterdam, NL)
Art space
Sam Basu (b. 1967, United Kingdom)
Suns and Stars (Amsterdam, NL)
Gallery
Andrea Karch (b. 1990, Germany) & Babette Kleijn (b. 1978, The Netherlands)
SUPERDEALS (Brussels, BE)
Project room and artist residency
Dome Wood (b. 1974, Australia)
Syndicate (Cologne, DE)
Platform for exhibitions, events and publications
Alex Reynolds (b. 1978, Spain)
TINTYPE (London, UK)
Gallery
Jennet Thomas (b. 1963, United Kingdom)
Ventilator (Tel Aviv, IL)
Nomadic exhibition space
Ishai Shapira Kalter (b. 1986, Israel)


VITRINE (Basel, CH/London, UK)
Gallery
Charlie Godet Thomas (b. 1985, United Kingdom)
Vleeshal (Middelburg, NL)
Center for Contemporary Art
Andreas Arndt (b. 1983, Sweden)
WAAP (Vancouver, CA)
Gallery
Steven Cottingham (b. 1989, Canada)
Wellness Center Future Proof (Antwerp, BE)
Artist-run organisation
Wellness Center Future Proof (Katinka de Jonge & Liesje de Laet) (b. 1989, The Netherlands, b. 1988, Belgium)