When Photo London re-launched in 2015, taking over the rooms of Somerset House, the British fair's aim was to "become the best in the world", and to have its presence felt internationally. In spite of its ambition, the London fair is yet to reach Paris Photo's prestige.
Although galleries face soaring participation costs — booth prices can reach up to €30,000 — and photography sells for, on average, less than sculpture and painting, Grimm tells us that "participating is a calculated risk, however the contacts you make at a fair can translate into sales after a fair as well, so it's hard to determine where the break-even is. Sales are very important, however a fair is also a promotional tool for the gallery." The first-time participant has a booth dedicated to Dana Lixenberg and her series Imperial Courts — which won her the prestigious Deutsche Börse photography prize and an acquisition by the Stedelijk Museum.
Twenty-one years after its launch, the fair is virtually the sole meeting point for the world's most prestigious collectors, dealers and curators specializing in photography. The Buenos Aires-based, first-time participant Galería La Jorge Mara-La Ruche has recorded "excellent sales right from the opening", citing the number of both European and American collectors attending the fair, as well as the impressive knowledge shown by the fair attendees. The gallery is presenting works by Grete Stern and Horacio Coppola, priced at between €7,000 and €15,000.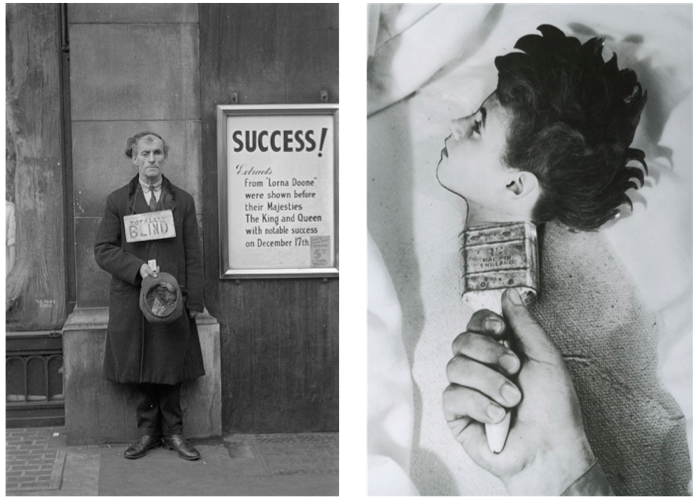 Success, London 1934, Gelatin Silver Print on paper — Estate of Horacio Coppola / Grete Stern, Sueno N31, Made in England, Gelatin Silver print on paper — Courtesy Galería Jorge Mara- La Ruche
For auction houses, the week is also the right time to offer lots from their most prestigious collections. Sotheby's will feature two sales on November 10, the only two photography auctions on the auction house's calendar. According to Jonas Tebib, head of photography at Sotheby's Paris, "the US has some of the world's most important photography collections, and they have been a trailblazer for the development of photography. In spite of this, fairs such as New York's AIPAD or Photo LA can't compete with Paris Photo. Since its debut in 1997, the fair had all the ingredients that determined its success, and the world's prime photography experts were present".

Irving Penn, Still life with watermelon, New York 1947 / Robert Frank, Sagamore Cafeteria, New York 1949 / Michael Wolf, N. 1954, Transparent City Detail #04, 2007 © Sotheby's
While Sotheby's New York features three photography auctions a year, in Paris, the auction house dedicates only one date to the medium. Photography is a peculiar art; auctions dedicated to the medium bring together very diverse audiences, and although contemporary photography has known a boost in recent years, Tebib tells us that works by earlier photographers still attract the most knowledgeable specialists and collectors. In particular, nineteenth-century and twentieth-century photography are still incredibly popular among specialists, whereas collectors preferring contemporary photography often do not specialize in the medium. Because of the diversity of their offering, photography auctions remain a rare feature, even for heavyweights such as Sotheby's.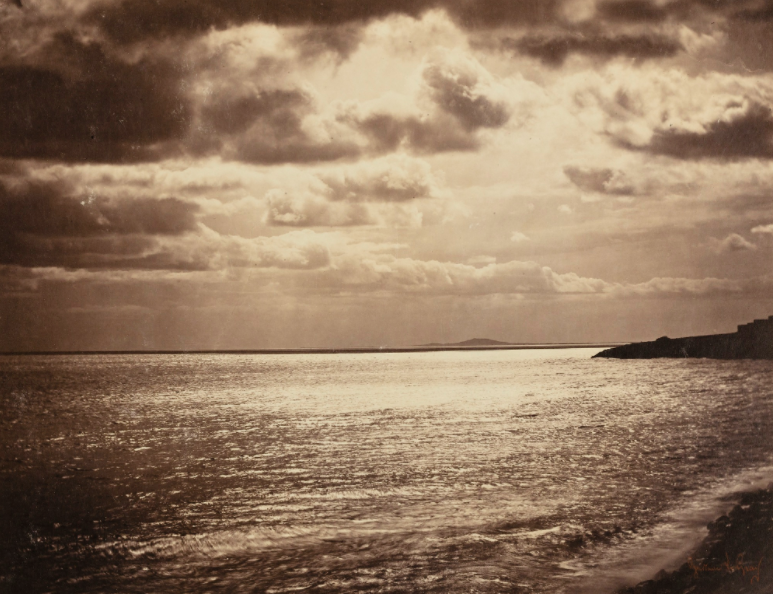 Gustave Le Gray, Mer méditérannée - Cette (Sète), 1857
Back to the Grand Palais, Paris Photo strikes —as always — for the impressive quality of its offer. Among our highlights, the South African Stevenson Gallery is presenting superb works by Guy Tillim — winner of the 2017 HCB award — capturing the life on the streets of African capitals including Johannesburg, Durban, Maputo, Beira and Addis-Abeba, cities that are "living museums" of both the success and failure of the revolutions against colonial powers.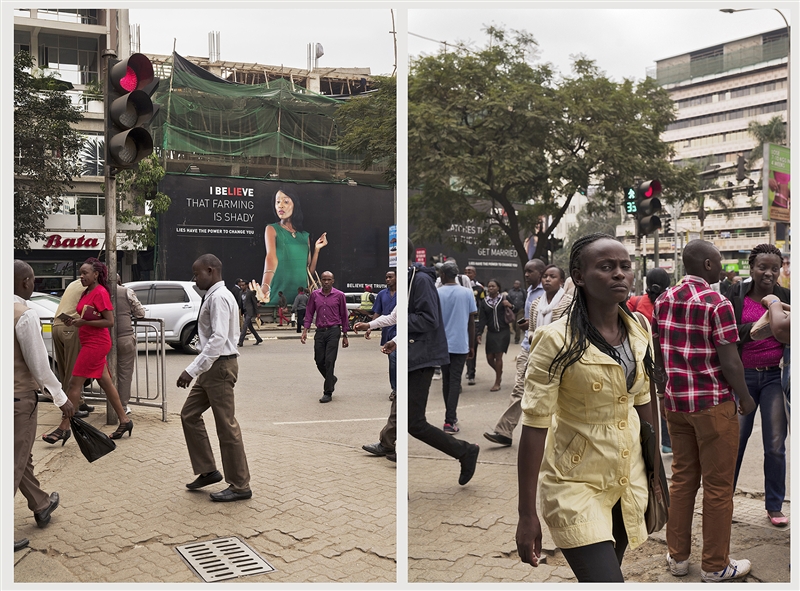 Kenyatta Avenue, Nairobi, Kenya, 2017 2016, Diptych; Pigment ink on cotton paper, © Guy Tillim. Courtesy of Stevenson, Cape Town and Johannesburg
Over at Flowers Gallery, Julie Cockburn appropriates vintage photographs from the 30s through the 60s, where she intervenes by adding geometric, colorful motifs.
Julie Cockburn, Befuddle, 2017 © Flowers Gallery
First-time participant Nailya Alexander Gallery, presents photographers of the Russian avant-garde, giving a platform to lesser-known talents. Among the artists on show at the gallery's booth are: Boris Ignatovich (1899-1976) and Arkady Shaikhet (1898-1959).
At the Hermitage 1930, Gelatin silver print, printed in 1960s, mounted on board, Boris Ignatovich, / Arkady Shaikhet, Express 1939, Vintage gelatin silver print
Courtesy of Nailya Alexander Gallery, New York
The Dubai-based East Wing gallery is showing works by Katrin Koenning and Sarker Protick, part of the series Astres Noirs, shot on iPhone, "a collection of simple abstractions, where light and space evolve into a soulful exchange". The photographs, taken in cities kilometers apart from each other, blend so well with one another that the gallery has preferred to not indicate their respective authors.
Katrin Koenning, Forest #1 (Glow), from the series Astres Noirs 2015 ; Archival Pigment Print, 30 x 30 cm, Courtesy the Artist /East Wing / Protick Sarker Untitled (Origin), from the series Astres Noirs 2015, Archival Pigment Print, 30 x 30 cm, Courtesy the Artist / East Wing
Etherton Gallery dedicates its booth to Japanese photographer Yamamoto Masao. Born in 1957, the artist, who started out as a painter, is one of Japan's leading contemporary photographers.
#960 from Nakazora 2002, gelatin silver print with mixed media, 12.7 x 7.6 cm © Yamamoto Masao/Courtesy Etherton Gallery
Last but not least, gallery Filomena Soares is presenting works by João Penalva, whilst the Parisian Galerie Sage features a group show of works by artists including Mimmo Jodice and Mario Giacomelli.
João Penalva, Blanket picture (no. 1) 2017, UV print on dibond and oak frame, 239 x 161 cm, Galeria Filomena Soares / Mario Giacomelli, Io non ho mani che mi accarezzino il volto 1963, Tirage argentique ancien, 30.5 x 39.7 cm © Estate of Mario Giacomelli, courtesy galerie SAGE Paris