Victoria Siddall and her team have in fact launched the brand new section "Sex Work". Curated by Alison M. Gingeras, the eight-gallery section showcases works by "women artists working at the extreme edges of feminist practice since the 1960s": Renate Bertlmann, Birgit Jürgenssen, Marilyn Minter, Penny Slinger and Betty Tompkins, artists who "were not easily assimilated into mainstream narratives of feminist art", let alone into those of art history as a whole.
In the 70s, Penny Slinger's book of slightly surrealist erotica collages Mountain Ecstasy was confiscated at British customs and burnt, whereas Cosey Fanni Tutti's music career was largely ostracized due to her sexually explicit work. In both veiled and very overt ways, all these artists have suffered the burden of censorship.
Today, at a time when museums are still grappling with what is allowed and what isn't — think of, for instance, the recently closed exhibition Queermuseum in Porto Alegre, Brazil, which shut down after facing criticism from the country's conservatives, or the works pulled from New York's Guggenheim Museum after backlash from animalists — they are able to show with high-profile galleries such as Air de Paris, Richard Saltoun, Blum & Poe as well as the New York-based non-profit arts organization A.I.R, which has been supporting the work of women artists through residencies and exhibitions since 1972.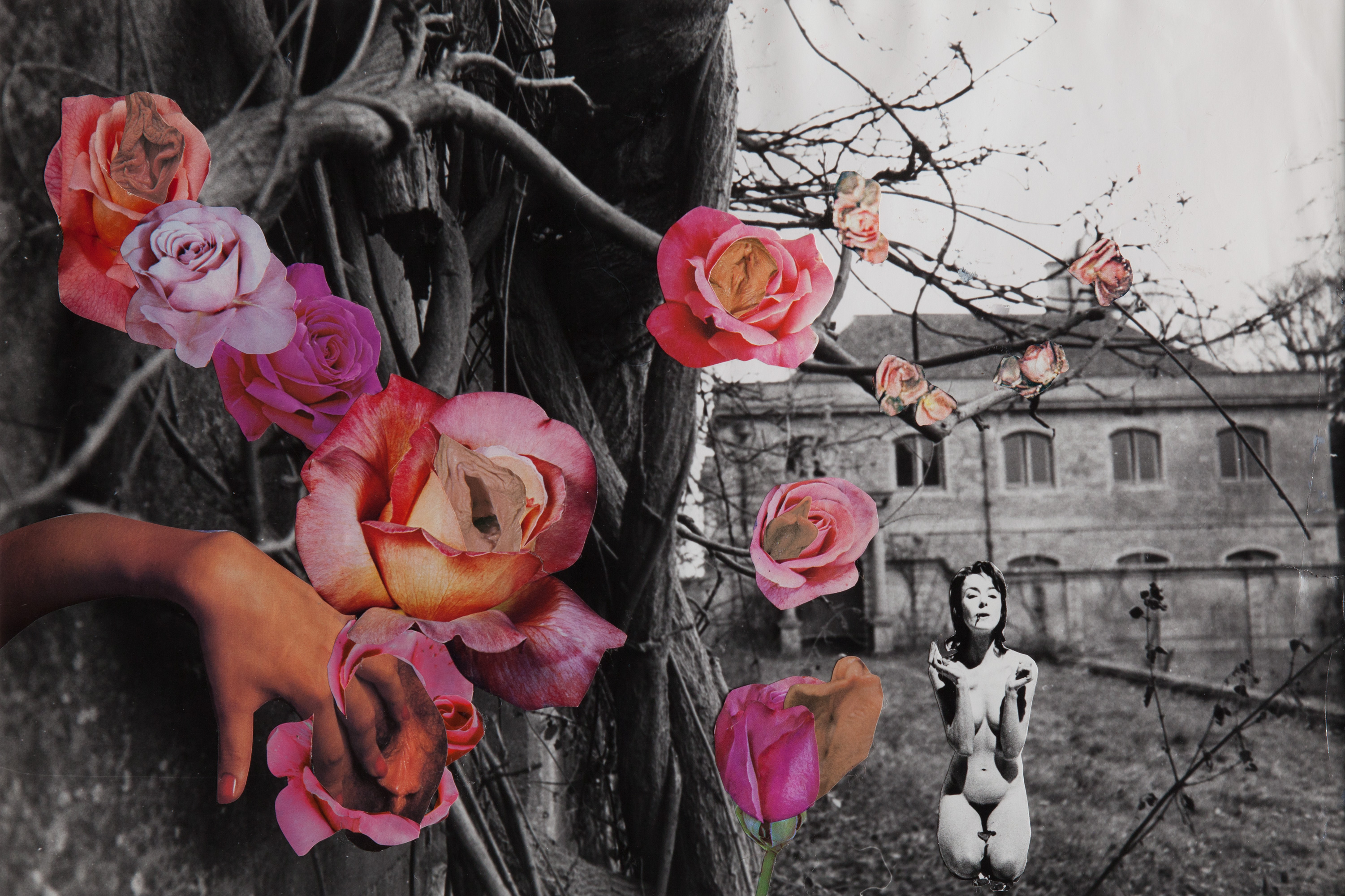 Penny Slinger, Rosegasm, 1970-1977. Photo collage 13 3/8 x 20 inches (34 x 50.8 centimeters). Courtesy of the artist and Blum & Poe, Los Angeles/New York/Tokyo
As compared to four decades ago, these works go almost unnoticed today — their shock value having considerably faded at a time when the likes of Tracey Emin, Carolee Schneemann or Celia Hampton, to name just a few, are widely incorporated within the mainstream. Criticized for their phallocentrism and their explicit nature in the 70s and the 80s, the works featured at Sex Work are now widely accepted. So what purpose do they serve, especially within the art fair? In short, many.
Above all, the photographs, portraits and paintings shown as part of Sex Work remain true to themselves and the artists who have created them: in 2017, they continue to document the history of women's sexual liberation, a cornerstone for the achievement of gender equality. Moreover, they attest to the plurality of feminism itself: although most of these artists did not think of themselves as feminists back in the 70s or the 80s, and they all stressed a certain playfulness pertaining to their work, their practice remains profoundly political. Although underground, underrepresented, and largely shunned upon, their works still represent a key moment in the development of intersectional feminism.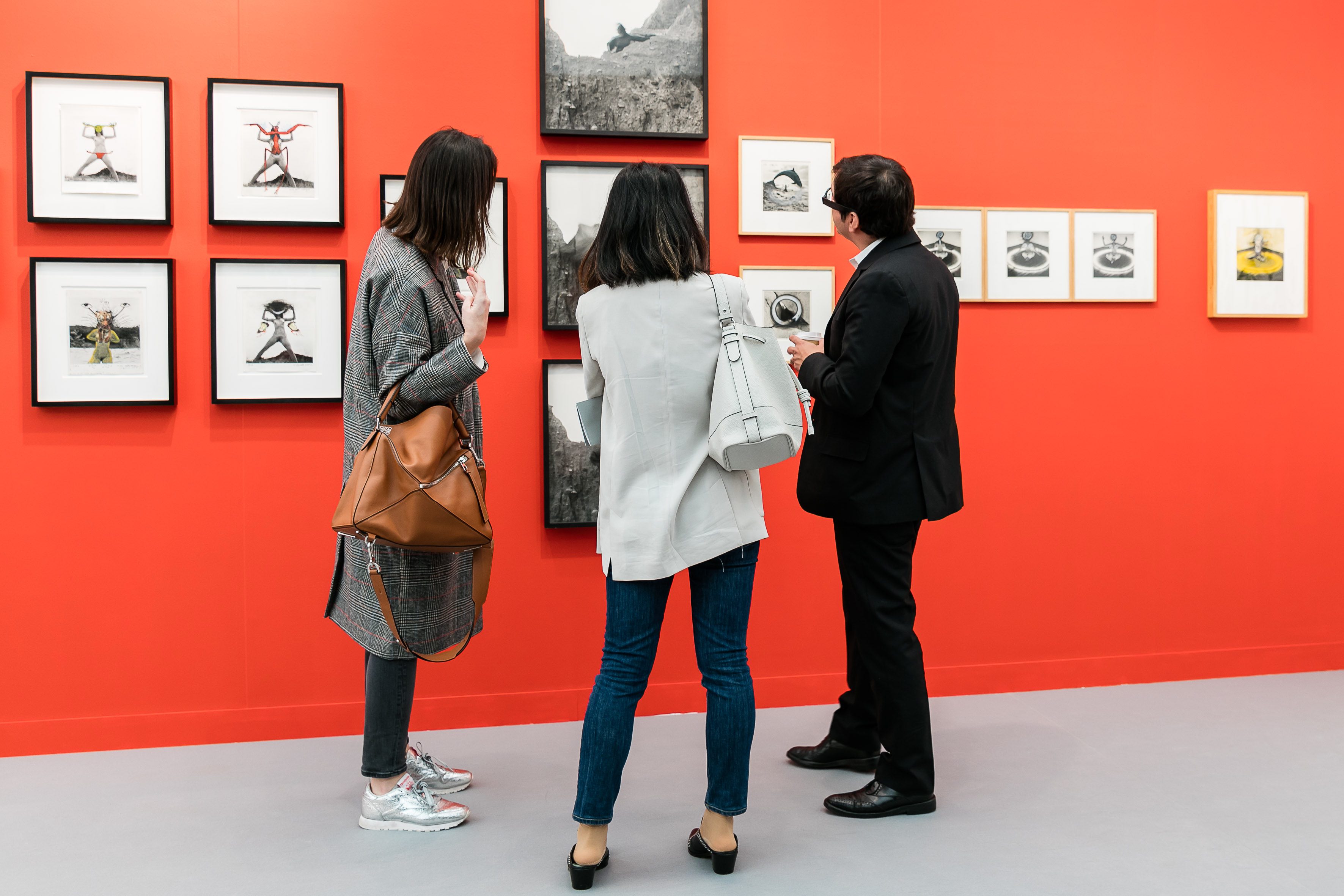 Blum & Poe, Sex Work: Feminist Art & Radical Politics, Frieze London 2017 Photo by Mark Blower. Courtesy of Mark Blower/Frieze.
But perhaps most importantly, the works of these artists are an uncompromising affirmation of women's agency over their own bodies at a time when a US president can allow himself to get away with the now infamous quote "grab 'em by the pussy". In 1977, the work of Natalia LL — who went on to open the eponymous gallery and is also featured at Frieze as part of Sex Work — was rejected by legendary art dealer Leo Castelli, who said that "America [was] not ready for this". In many ways, forty years later, America — and the rest of the world for that matter — still isn't, hence the absolute necessity of showing these works at a mainstream art fair.
Just ahead of Frieze, fair director Victoria Siddall posed alongside ten other art world superstars from artist Rana Begum to Tate Modern director Frances Morris, for the November edition of House & Garden magazine, where she and fellow art world ladies, warned readers and the general public against taking gender equality within the industry for granted. Of course, Siddall's efforts towards giving visibility to the gender equality question cut both ways, and to a certain extent, they are a perfect example of how the art world works. Siddall juggles extremely elegantly between the mainstream and the radical art presented at the London fair, but her uplifting message is somewhat undermined by speaking on a platform (House & Garden) that perpetrates a certain image of women and their interests.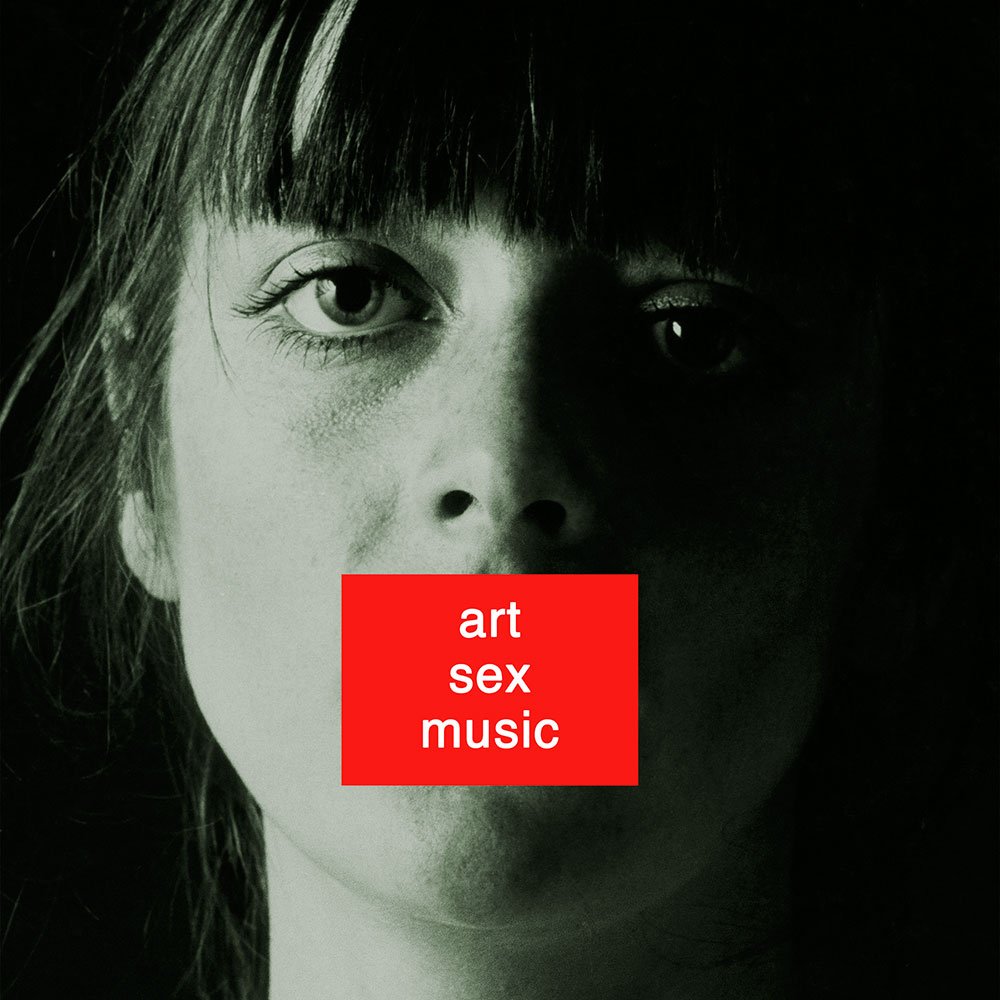 Cosey Fanni Tutti, "Art Sex Music". Courtesy the artist.
"Sex Work" is a relevant and necessary novelty — but it remains a smaller, side project to a reality where trade is paramount. In spite of this, and for its unprecedented nature, it remains a welcome addition to London's biggest fair.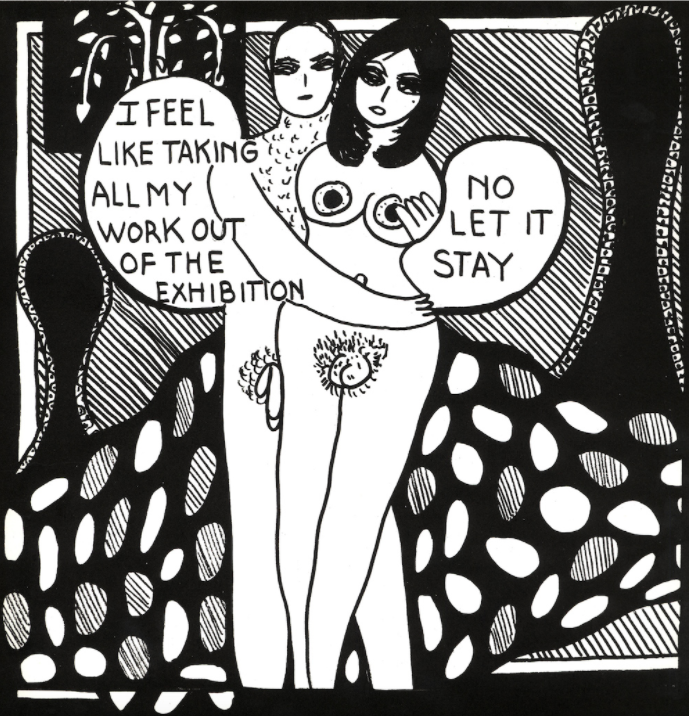 Dorothy Iannone, The Story Of Bern (or) Showing Colors, 1970. Extract from 69 drawings, felt pen on Bristol board each 22,5 x 21,5 cm. Courtesy Air de Paris, Paris