"Effigies of Life: A Tribute to Magdalena Abakanowicz", however, almost never came to fruition. Local museums lacked the funding to be able to support the project, and the initiator, curator, and friend to the artist, Mariusz Hermansdorfer, needed greater aid in his old age. But through the sheer tenacity of those participating in the project, private funding and organisational support offered from the ArtEast Foundation, run by Irmina Nazar and Artur Trawinski, an additional curator was found, Maria Rus Bojan, and the exhibition is now up and running, occupying multiple locations across the city.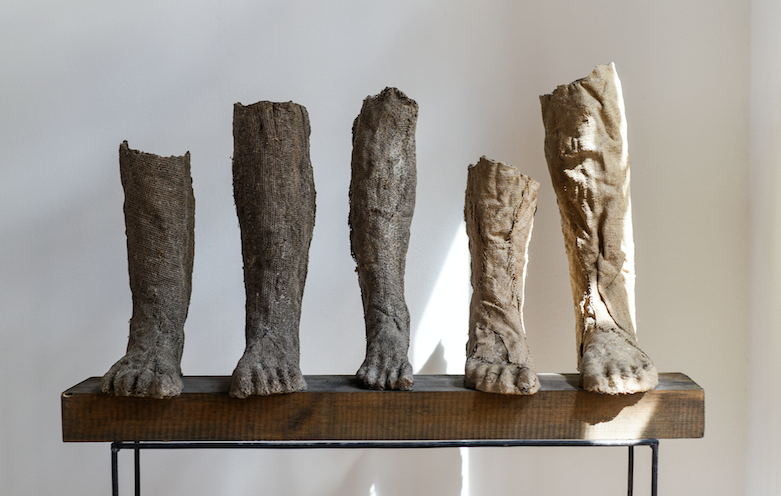 Installation view of Effigies of Life A Tribute to Magdalena Abakanowicz in Wroclaw, Poland. Image courtesy of the artist estate.
The small team organising this major show all express a great sense of urgency when discussing the importance of paying tribute to Abakanowicz, stressing the need to highlight and preserve her influence on art history. Abakanowicz might be one of Poland's best-known artists — with her work included in major institutional collections from the Tate to MoMA to the Centre Pompidou — yet, as a woman artist, she has often been eclipsed by her male counterparts who, though they have been undoubtedly influenced by her, are seldom yet to cite her as a major precursor. To give just one example, even the most cursory comparison of Abakanowicz's mid-career sculptures cast in bronze, burlap and resin in the 1970s, with Antony Gormley's bronze figures of the 1980s, reveals a striking similarity.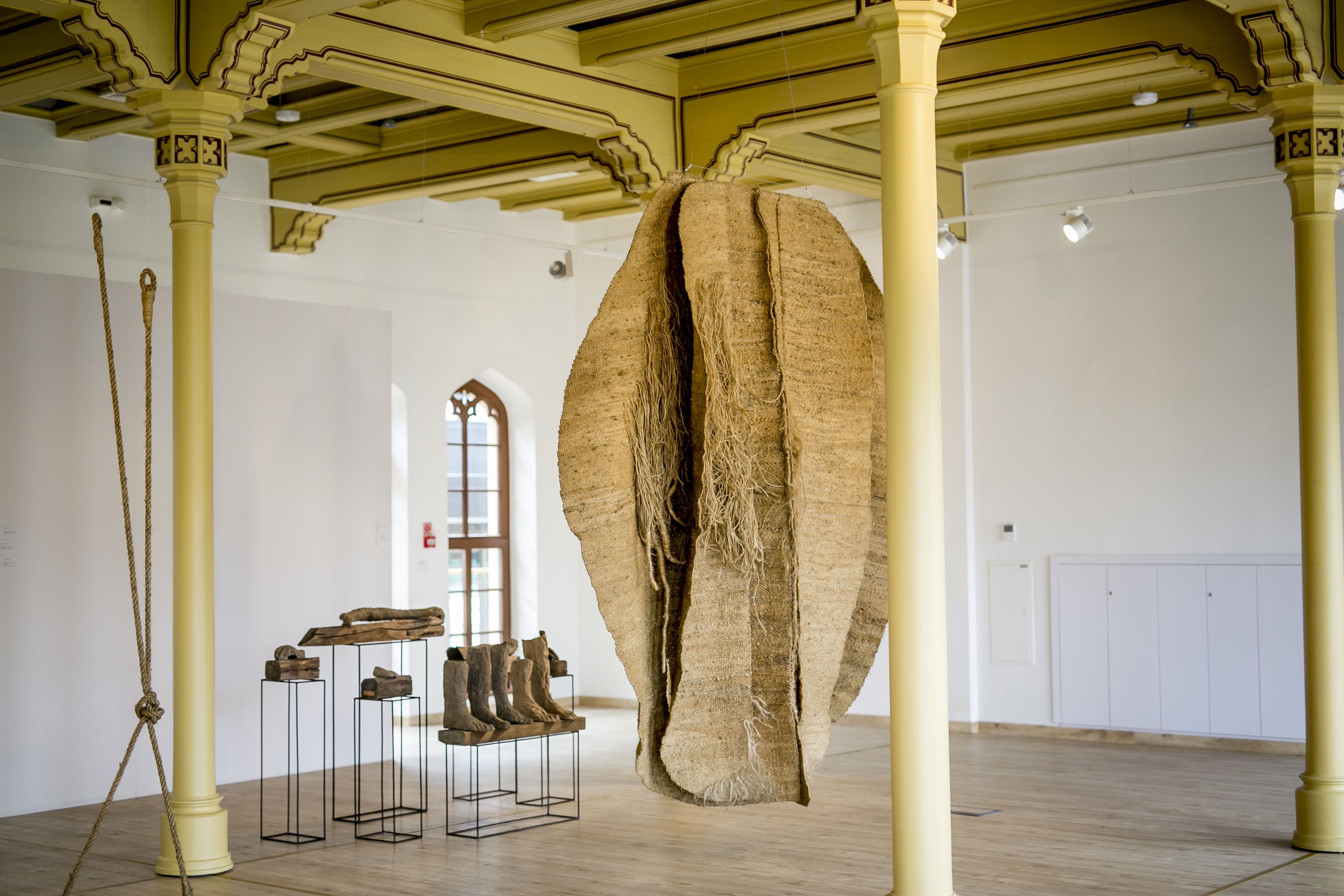 Installation view of "Effigies of Life A Tribute to Magdalena Abakanowicz" in Wroclaw, Poland. Image courtesy of the artist's estate.
Abakanowicz is nevertheless a pivotal figure within 20th century art history. Beginning in the 1960s she was already transforming the way sculpture and textiles were perceived, using burlap, hemp and horsehair on a monumental scale to create striking yet delicate works which revolutionized traditional sculptural codes. The lion's share of the exhibition is taking place in the city's train station which houses the Dworzec Glowny PKP Gallery which was inaugurated last year when Wroclaw became European City of Culture for 2016 and features a number of these Abakans, cocoon-like and suspended in space in dialogue with work from all periods of her practice.
Her equally iconic headless burlap sculptures also occupy a large part of the exhibition, their seemingly imposing force dissipating when seen from behind, revealing just a shell of a figure, opening up an interpretive spectrum and raising questions of substance and appearance. While the artist resists defining the exact issues that her work addresses, beyond stating that they deal with "the general problems of mankind," Rus Bojan sees these empty carcasses as an allusion to the oppression of Communism that Abakanowicz was working under. "These empty figures might speak of the evacuating of substance and personality and that took place under communism in Poland," she says. There is almost certainly an allusion to the notion of the effacing of identity within a crowd; not one of her sculptures stands alone, they are always in crowds or groups, each with their individual marks and scars, but nonetheless, interchangeable.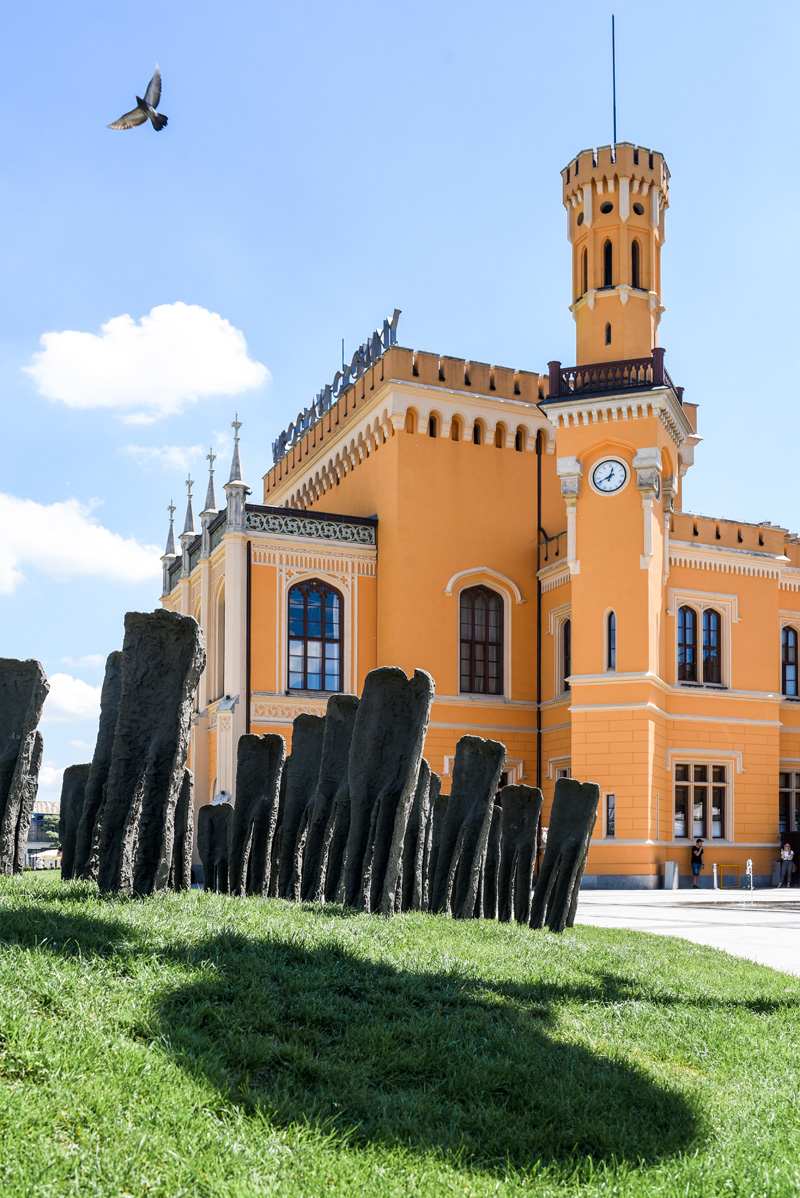 Installation view of "Effigies of Life A Tribute to Magdalena Abakanowicz", Bambini, in Wroclaw, Poland. Image courtesy of the artist's estate
In front of the gallery stands the artist's 83-piece Bambini work; a clutch of genderless, faceless, tiny bodies assembled in a blind march towards the train station, created by the artist in memory of 83 children who had frozen to death on a deportation train during the war. Abakanowicz may not attach her practice to any one particular plight, but she certainly feels the pain of others with some great intensity.
Her own life was not without distress, in 1943 her mother's right arm was shot off by a drunk German soldier at their country home outside of Warsaw. The next year following the outbreak of war she became a nurse's assistant. With her family she later fled persecution under Communist rule, moving to Tczew in 1949 before becoming a painter when she began her studies in 1950. Yet this period, dominated by Soviet Realism and fierce constraints placed upon artists meant that although Abakanowicz was creating radically innovative work, "her success came during a period in which success in the West was forbidden," reminds Rus Bojan.
And so now, in the wake of the artist's passing, a team of committed followers are working with haste and dedication, to ensure that her legacy is maintained and that her life's work gains the recognition that it deserves.
Effigies of Life: A Tribute To Magdalena Abakanowicz, Wroclaw, Poland, 23 June – 25 August 2017, supported by Irmina Nazar and Artur Trawinski's ArtEast Foundation