Artists such as Haythem Zakaria (DDessin and Solo-project Basel), Nidhal Chamekh (DDessin, Drawing now and the Venice Biennale), Helà Ammar, Houda Ghorbel, Wadii Mhiri, ismaïl (at the
Museum of European and Mediterranean Civilisations of Marseille for the exhibition "Traces… Fragments of a Contemporary Tunisia") and Mohamed Ben Slama (Institute of Islamic Culture in Paris) are already marking their presence at international fairs and exhibitions, writing new chapters in the history of Tunisian art. Together, these artists are working towards cultural change, setting into motion an artistic revolution aimed at activating an enlightened collective memory.
Contemporary art in the making
Last May, 37 artists — mostly from neighboring Mediterranean countries such as Algeria, Tunisia or France and from sub-Saharan Africa (Congo, Mali and Cameroon) — came together for the exhibition "3ajel — The Real Time" at the premises of the Talan Group in Tunis, the service provider company led by art patron Mehdi Houas.
3agel — arabic for "urgent" — is the title chosen by exhibition curators Aicha Gorgi and Marc Monsallier to signify a need, on the part of Tunisian contemporary artist, to immortalize the present moment.
War, revolution, media, crisis, a quest for identity and a desire for freedom: these are the elements making up the everyday life of a generation of artists whose ambition is to account for the time they lived through and endured.
An anthology of harrowing times
With her installation Frappe-éclair, Héla Ammar explores the ways in which information is distributed and how it is engraved in the political and social collective consciousness. Starting from the individual practice of dactylography, she manages to give her work a wider resonance striking at our shared perception of the world at lightning speed.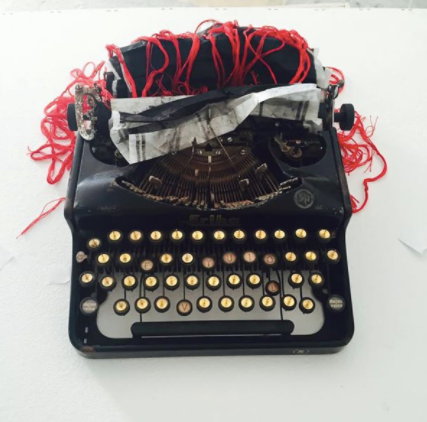 Héla Ammar, Frappe-éclair, 2016. Courtesy Héla Ammar
Intissar Belaïd presents Ce qu'il reste de la folie, a triptych made of three hand-embroidered vertical canvases, retracing the marking moments and significant places of contemporary Tunisian history. The image of the 2015 Sousse attacks, because handmade, reflects the temporality of its execution, almost a therapeutic narrative, necessary to process the trauma.
Mounir Fatmi provides us an in-depth reading into the notion itself of "image". What do pictures want? is the question asked by La quatrième de couverture, an ever-growing visual archive established in 1991, juxtaposing the front and back cover images of a number of magazines. Fatmi's work highlights both the strength and the absurdity of images, encouraging us to understand that these are not simply objects escaping signification but almost "beings" with a power of their own: Fatmi's are images that demand to be negotiated with.
The practice of conceptual artist Haythem Zakaria tends to the experimental, encouraging a dialogue between different techniques, media and rituals. Meta-images, immersive installations, arabic calligraphy. In Mécanique de l'expiation, a round gear makes a rosary spin at a slow, repetitive, mechanic and ultimately "dehumanized" rhythm. Zakaria confronts the two-fold character of temporality: that of sacred rituals and of desacralizing mechanics.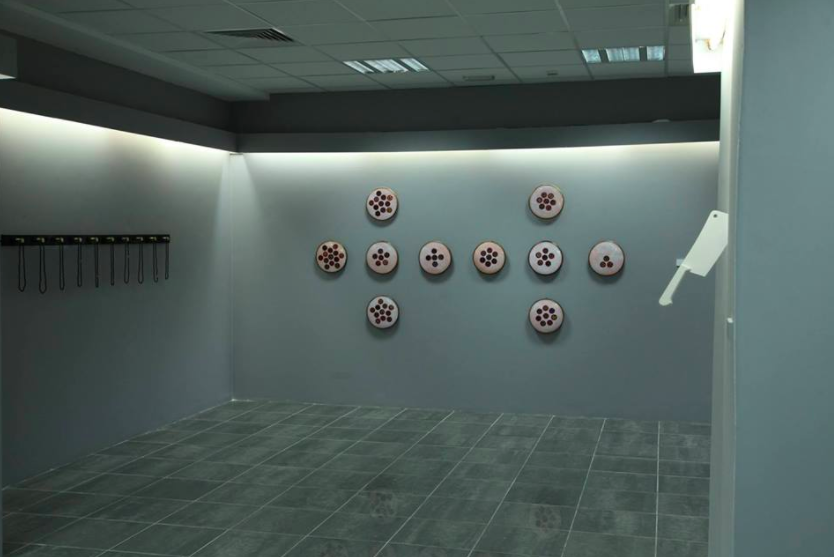 Haythem Zakaria, Mécanique de l'expiation, 2016. Courtesy Achraf Ben Abizid
Similarly, Google War by Matthieu Boucherit explores the dynamics of repetition, of re-making and re-seeing. The work, a bitter critique of our ways of creating, sharing and rapidly consuming images, showcases a flux of numeric images, a flow that negates meaning, which disappears behind the repetitivity of the format.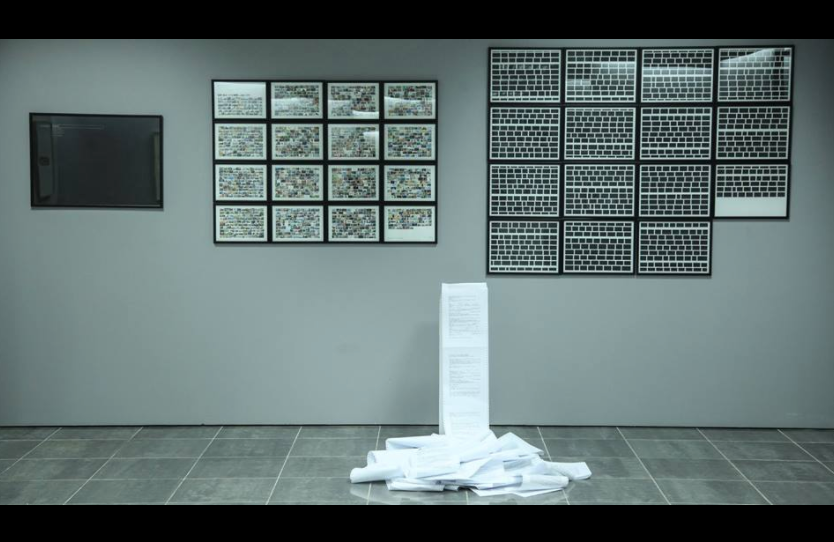 Matthieu Boucherit, Google War. Courtesy Achraf Ben Abizid
The exhibition "3ajel — Le temps réel" redirects our attention on the present moment and on the history of Tunisia, a country that has suffered long from isolation and whose creative talent has been stifled. In a shared space / time, Talan has given 37 artists the opportunity to reappropriate what has long escaped them, to give it meaning or condemn it.
Talan, Tunis, « 3ajel, (Urgent) »
May 26-June 10