When she was five, Argote's family moved to Los Angeles, where her father, a trained architect, took up several jobs, though he continued to draft architectural drawings — notably the blueprint of a house he had promised to his family. This visual representation of abstract spaces, together with Argote's family history and memories, have deeply influenced her work. Her practice inhabits a space in between reality and and abstraction, memory and history, Mexico and Los Angeles.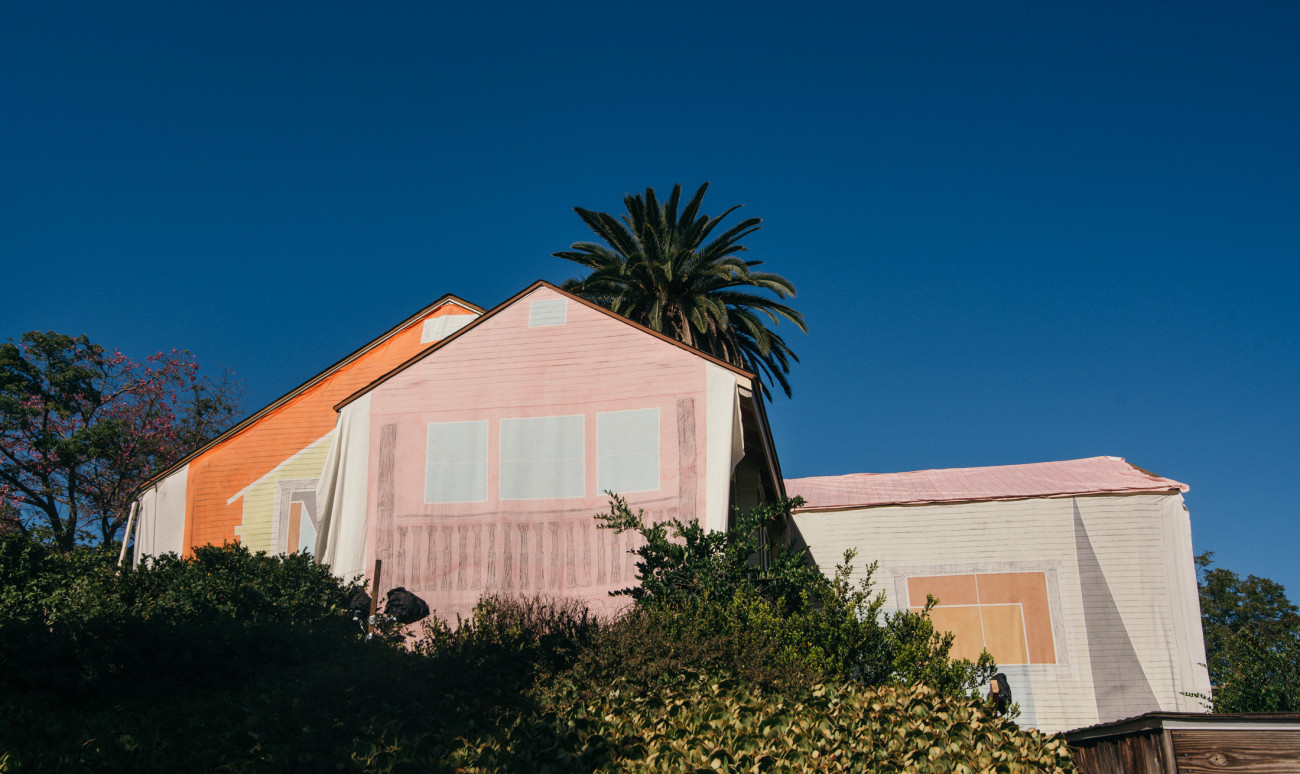 From the exhibition Houses he wanted to build at Adjunct Positions, Los Angeles. November 7 – December 12. Courtesy the artist.
The influence of her family's narrative on the construction of her own identity is deeply present in Carmen's work. Her project My father's side of home saw Carmen take up residence in Mansión Magnolia, the Guadalajara mansion once owned by her family turned into an events space. Another of her projects, titled Houses he wanted to build took the form of a site-specific installation at the LA project space Adjunct Positions, where the artist hung a series of mantas from the building's eaves, of a typically Mexican fabric, painted with the silhouette of a house drawn by her father — effectively giving life to his architectural drawings.
Far from being a straightforward idea, the notion of home is complicated by Argote's experience as an immigrant, as well as the confluence of transnational cultural influences in her own experience.
Carmen Argote's work is currently on display at LACMA as part of the group exhibition "HOME — So Different, So Appealing". H A P P E N I N G spoke to the artist ahead of the opening of LISTE.
Could you briefly explain the work you are presenting at LISTE?
The work I am showing at LISTE was part of an installation called Alex's Room. Alex is my younger sister and the universe that is contained in the work all takes place within her tiny studio apartment. The works on view are created by layering repeated photographs that are cut into, and layered, to create the idea of an expansive space.
Alex's Room acknowledges that through the rearrangements of personal objects, we can transform the spaces around us. These works touch on how we can change the architecture around us in rearranging our things — creating expansive psychological spaces within our living environments. These works also challenge the notion of social class — commenting on the contemporary culture of throwing things away and stigmatizing those who collect and relish in their belongings.
There seems to be a lot of focus on space and context in your work. Does this influence the way you present your work at fairs? Do you adjust your work to the environment you are showing in?
My work responds to a site, its dimensions, its context and relationship to how bodies move within it. I often consider each showing of the work as an opportunity to grow the ideas in the work further. At fairs, it's harder to say. In a group context, I have to let go of some of that control to allow for the gallery's focus to come more into play. It's more about the conversation they build between the artist's work on show.
You've spoken of your father influence on your work. Do people appreciate the architectural aspect of your work?
I think that people appreciate the influence of architecture in my work because architecture is a vehicle through which personal narratives are explored. They also evoke broader ideas of class, cultural influence and immigration.
Do you feel that different audiences react differently to your work?
People who understand this idea of being in in-between places or that can connect with notions of duality often see the more nuanced ideas within the work.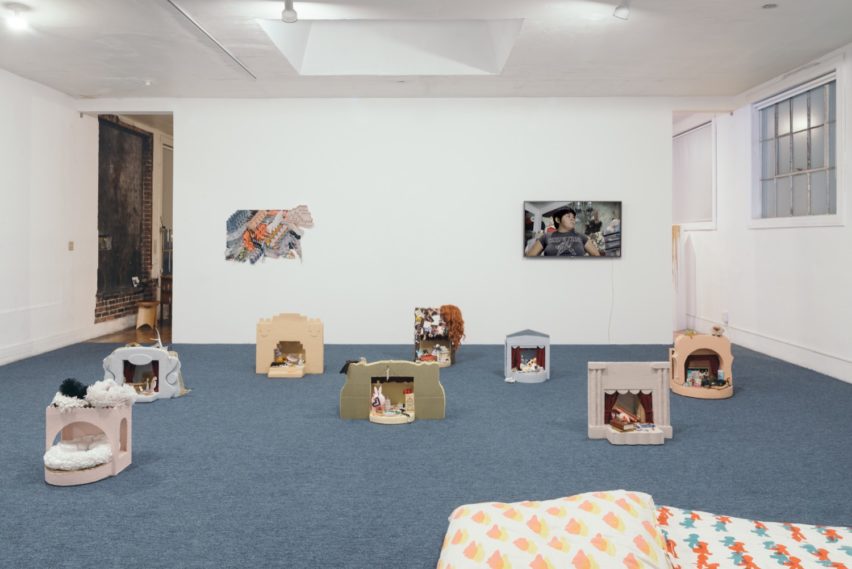 Installation view of Alex's Room at Commonwealth and Council. Courtesy the artist.
Do you feel your experience of immigration is reflected into your work?
I think that it has to do with having a point of view that 'folds over itself'— immigration is an experience that produces layered cultural perspectives. My immigrant experience is, for example, reflected in how I relate to the aesthetics of modernism and minimalism. My interest does not lie in the purity of a form, but more in my father's in-plan drawings of houses he wanted to build in Mexico. For Los Angeles audiences, the first thing that comes to mind is Donald Judd. I guess the awareness of that flip, and the dual nature of that context in my work — those conversation which arise — is what I think the immigrant perspective brings. I think I create work that exists in a state of in-betweenness, situated in shifting frameworks (conceptual and aesthetic), which echoes my own experiences in life, and how I navigate cultures.
LISTE is open to the public from June 13 through 18. Carmen Argote's work is on show at Instituto de Vision's booth.
Carmen Argote's portrait: courtesy the artist.