Contemporary African art according to African artists

"African art is a bit like bitcoin: it doesn't cost a lot" — half-jokes artist Emo de Medeiros when asked by curator Marie-Ann Yemsi whether it is possible — or indeed viable — to define African art.
Recently, contemporary African art emerging from the continent has seen an undeniable boom — both on the world stage, and on the world art market. Going beyond this auction-room fetish though, has contemporary African art found its footing without forgetting the questions rooted in its historical baggage?
Born in Benin, de Medeiros splits his practice between his home country and France, and has made a point of challenging established definitions of African identity. At a talk hosted by Kader Attia's La Colonie in Paris last week, de Medeiros, wearing his signature mask that covers half of his face, challenged: "I don't think what I do is necessarily influenced by who I am. This is why I have a mask."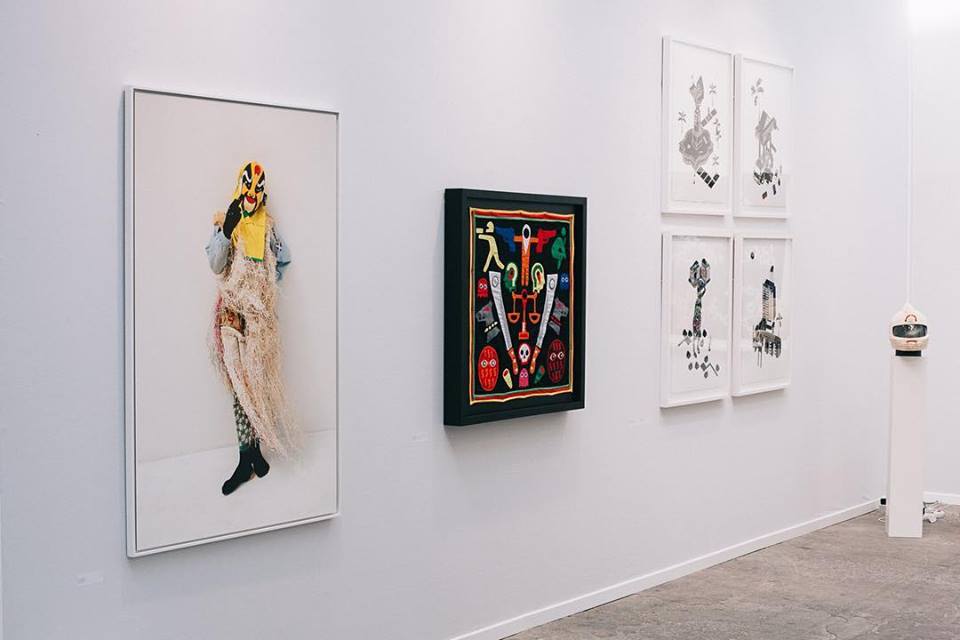 50 Golborne's booth at Art Paris Art Fair. Works by Emo de Medeiros. Courtesy 50 Golborne and Art Paris Art Fair.
With a plethora of events dedicated to contemporary African art taking place simultaneously in Paris this Spring, some of which in the capital's cultural and touristic landmarks — including the Grand Palais and Galeries Lafayette — there is a sense that the surge of interest in the work of artists from Africa and its diaspora is no longer relegated to the "focus" sections of art fairs, but has entered the mainstream.
If the ever-present reality of globalization has made the divide between Western and non-Western world less and less wide, for artists Joël Andrianomearisoa, Emo de Medeiros and Dalila Dalléas — all born in Africa but living and working in France — the question of identity is significant, but for reasons that one might not expect.
For Dalléas, who won the Art Paris Art Fair award this year, artists from Africa are "constantly faced with the question of identity, which is very mediatized, but it only concerns the people who ask the question." As an Algerian artist, Dalléas prefers to affirm her African identity by participating to events such as Dak'Art, however the theme "does not appear in [her] work".
Several artists have also distanced themselves from a too abstract discussion surrounding the label "African". For de Medeiros, for example the definition is too reductive: "we wouldn't talk about 'European' artist for someone from Italy or Britain. We can't really talk about African art: it's just an agglomeration of visual elements that have come at the same time on the contemporary art scene."
This simultaneous aggregation is one of the reasons why Western institutions have the tendency to catalogue hundreds of years of art history under one rubric. This, in turn, perpetuates inconsistencies surrounding the notion of African art — think of the Fondation Cartier's endeavor "Beauté Congo", covering 90 years of artistic production in one exhibition, something which would be unthinkable for artists from any European country.
For Emeka Okereke, the idea of African art is "a convenient construction. I refused to show one of my works at Art Paris because I feel strongly that events like this are responsible for the construction of this false, problematic notion of Africa; this forced unification undermines the totality". Furthermore, this "problematic notion of Africa" often presupposes an idea of novelty, which has also contributed to the lack of recognition of the continent's rich art history. Most artists are reluctant to speak of a "new era" of African art. They are adamant that "Africa is no guest in the European narrative, or in France," as Okereke explains. Despite having influenced cultural production in Europe for centuries, the colonial importation of sacred cultural relics has left a bitter taste in the mouths of artists who now find their practice saddled between the two continents. It feels important — now more than ever — to recognize art emerging from the African continent as substantial and full-bodied — not to sublimate its intent, or patron its advances.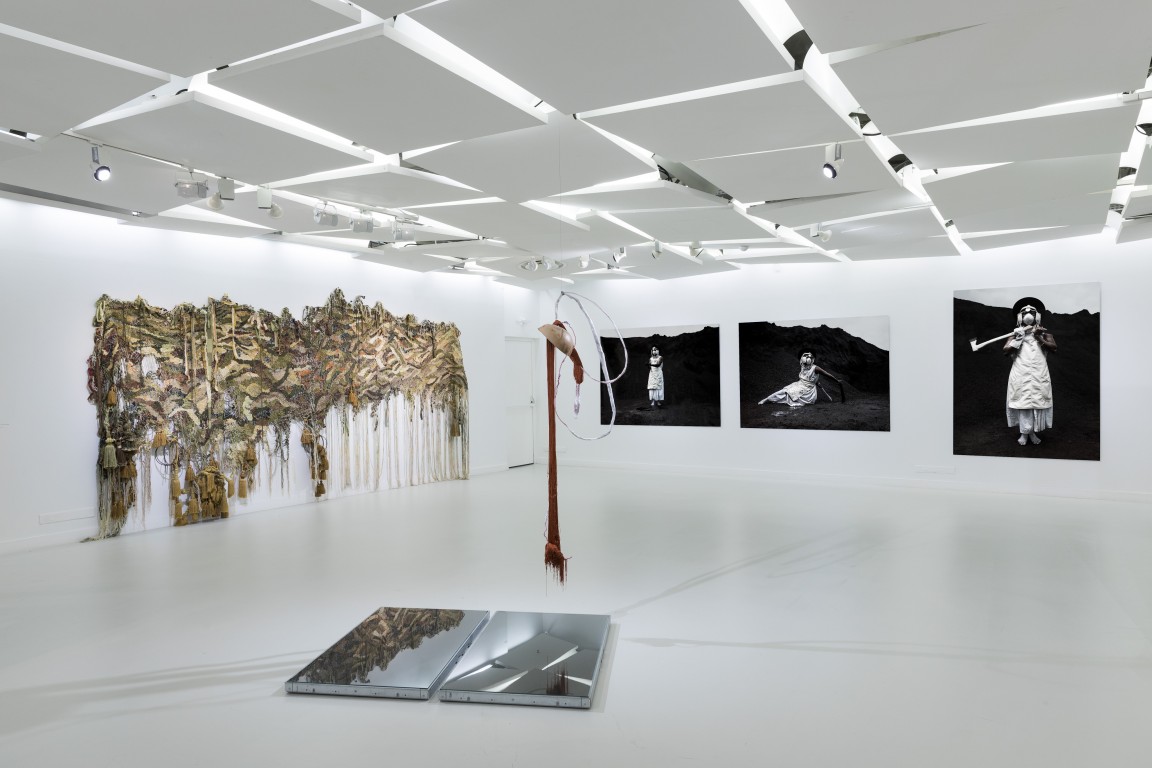 Installation view, "Le jour qui vient" until June 10 at Galerie des Galeries, Galeries Lafayette Paris © Thibaut Voisin.
Far from the institutional context, and working beyond abstract curatorial discourses, "Le Jour qui Vient", organized by Marie-Ann Yemsi, takes place at the Galeries Lafayette department store, one of Paris' most popular tourist landmarks, showing artists as diverse as Andrianomearisoa, Bronwyn Katz, Ruby Onyinechi Amanze or Lebohang Kganye, with a desire to take art out of the institutional context and make it available for larger audiences, in what is an ambitious and clever move on the part of the organizers.
As curator Marie-Ann Yemsi reminds us, it's as though African artists have to constantly "justify themselves". Events like these, together with the exhibition "Afriques Capitales" at La Villette's Grande Halle, renounce over-complicated curatorial discourses. They prefer the artists' uncompromising self-expression. François-Xavier Gbré's Je Suis Africain (I Am African), written in colossal chinese characters across the back wall of La Villette, undeniably confirms this approach — signifying an identity that is simultaneously fixed, and volatile.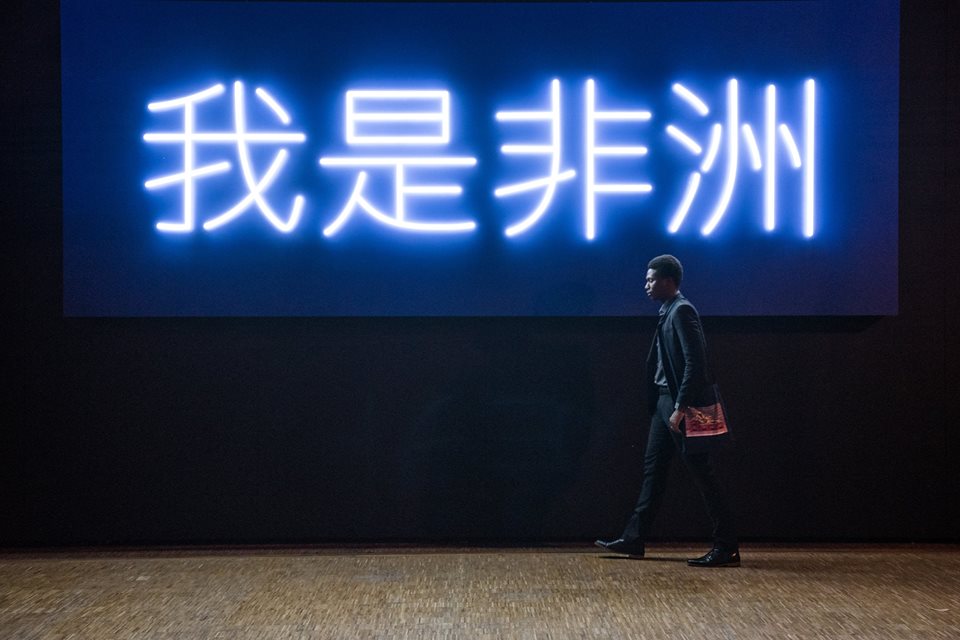 François-Xavier Gbré, W'o shì f''eizh''ou / Je suis africain. Courtesy Galerie Cécile Fakhoury.
All quotes from the panel "Contemporary African art… to what end?" hosted at La Colonie on March 31.
YOU MIGHT ALSO LIKE...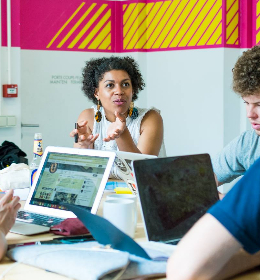 Creature Paris | Launch of an "Artistic and Cultural Production" education program aimed at future entrepreneurs}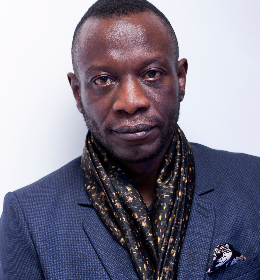 Azu Nwagbogu, Interim Director of the Zeitz MOCAA}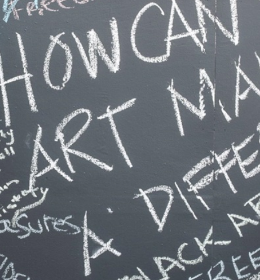 New program launched by the Metropolitan Museum for socially-minded artists}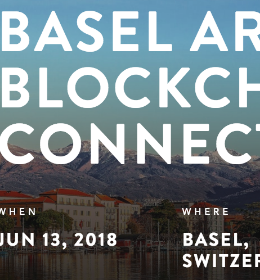 Art Basel Conference | Technology and the blockchain fueling transparency and trust}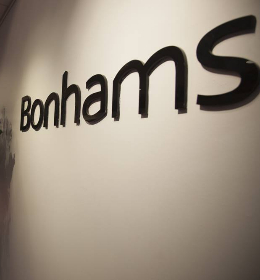 Auction Houses
Bonham's for sale (again)?}