Every Monday Tim Schneider, Director of Research at Kayne Griffin Corcoran Gallery and the brains behind The Gray Market Blog, dissects the most important stories of the week from the art market.
TITLE FIGHT
On Wednesday, a new era began in the niche-within-a-niche of art-industry analytics, as former TEFAF data guru Clare McAndrew publicly released her first annual report for Art Basel & UBS. Dubbed The Art Market | 2017–– which, FYI, renders it impossible to reference by title in conversation–– the study delivers 279 pages of big claims about various aspects of the most notoriously opaque business this side of the dark web. New to McAndrew's reporting are select statistics from the buy side of the trade (courtesy of a survey of 2,025 American high net worth individuals), as well as a trove of exhibition-related data mostly sourced from Artfacts.net. Still haunting her approach like a Twilight Zone gremlin on a plane wing, however, are her decisions to generate most of the document's gallery/dealer-sector numbers by surveying only 6,500 or so of an alleged 296,000+ sellers––and granting the (all-time high!) 17 percent of respondents anonymity, i.e. incentivizing them to lie their asses off about their own success.
Since I have no interest in going all "Real Violence" on the pseudo-science of these yearly studies again, let's focus instead on the bloodsport for influence that now has to ensue. During McAndrew's eight years at its helm, TEFAF's annual report was regarded as the unquestioned authority on industry data. But her defection to Art Basel & UBS now forces insiders and analysts to choose between brands. In one corner, they have McAndrew, whose authorship and approach (justifiably or not) helped make the TEFAF study a juggernaut. Only now, she's also joined forces with the premier brand in the art-fair sector and a respected one in the banking sector (assuming you don't mind a giant tax-evasion scandal every now and then). In the other corner, they have TEFAF itself, the organization (again, justifiably or not) now synonymous with trusted metrics on the market's year-to-year activities. Only now, it lives or dies by the efforts of McAndrew's replacement, Rachel Pownall, who just declared before the release of her first TEFAF report earlier this month that she is unlikely to ever take the standard academic step of publishing her data sets, because it would just be too time-consuming.
Personally, I think the battle is already over, and Basel is standing over TEFAF's grave with its zipper down and a Travis Scott song [NSFW] booming behind it. Analyzing the two reports in depth in the span of a few days—an exercise that felt like a hazing ritual conducted by an academic team—convinced me that McAndrew and her partners have two major advantages over her ex-client. One, likely thanks to the availability of far more resources, the Basel/UBS report looks, feels, and reads significantly more refined than its counterpart, whose often-slapdash quality overwhelms what may be, in some cases, a somewhat sounder methodology. Two, by the sheer size of its numbers, McAndrew's study feeds egos and perceptions to a degree that TEFAF's simply doesn't. An estimated $56.6B art market with over 296,000 dealers will always sound sexier and more growth-oriented than a $45B art market with something like only 10 percent as many private-sector sellers. If you're a part of the industry, which of the two images would you rather pledge allegiance to?
True, it seems unjust to declare a victor in this brawl using such superficial criteria. But together, surface and size have been manhandling taste in contemporary art for most of this young century, and I see few signs of a momentum shift on the way. So while I remain skeptical of McAndrew's data, her alliance with the industry's dominant trends leaves me confident that interested parties will award her, Art Basel, and UBS the art-market analytics title going forward—and that a punch-drunk TEFAF will be left lying on the mat wondering what happened to its glory days. [Art Basel]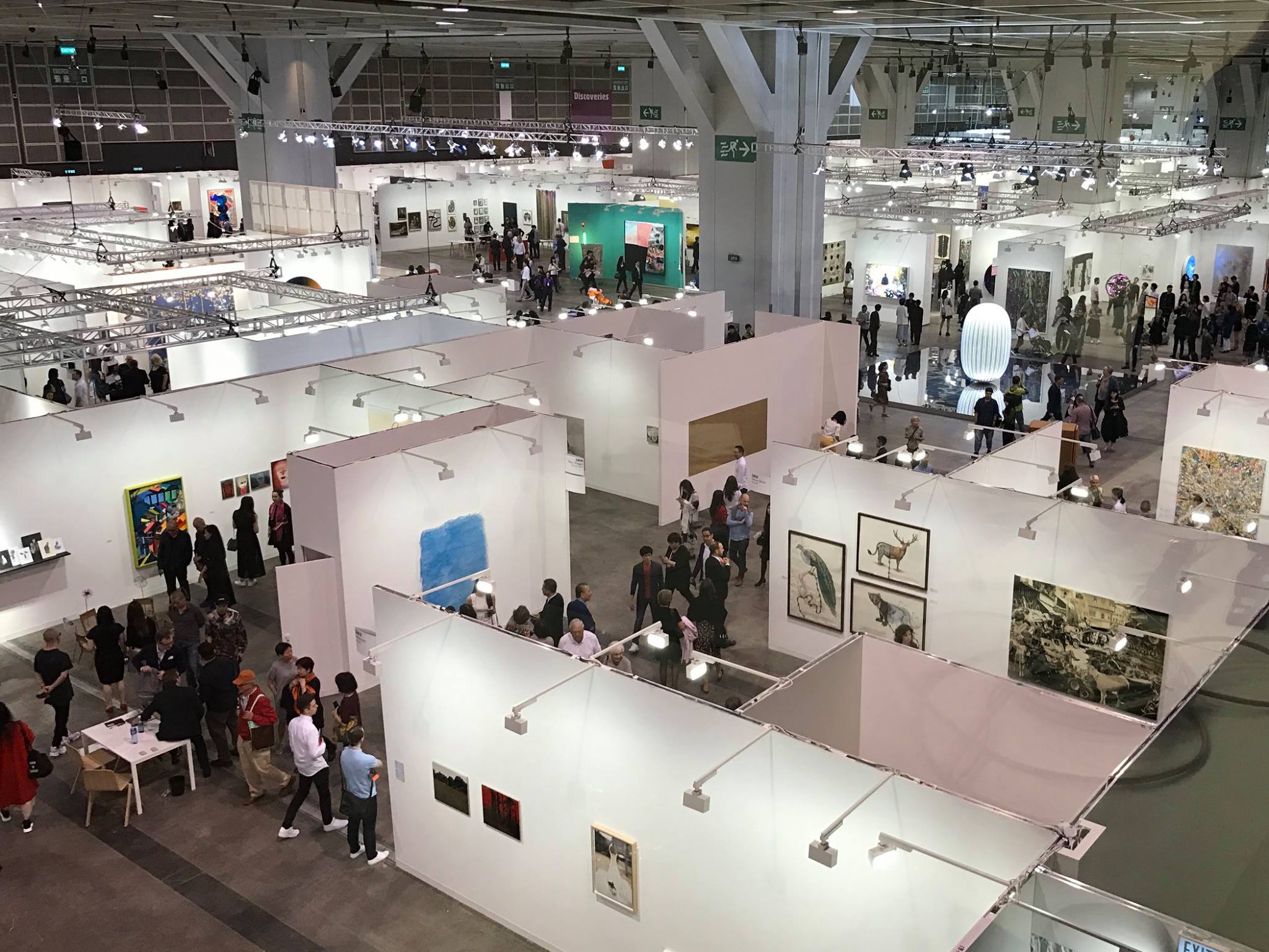 Art Basel HK
WORDS WITHOUT THOUGHTS
In the most heated controversy of the year so far, the white skin of respected painter and current Whitney Biennial participant Dana Schutz was scalded by protestors over the artist's 2016 work "Open Casket," which re-interprets the tragically mutilated corpse of black teenage civil-rights martyr Emmett Till. Just a week earlier, numerous mainstream critics called Schutz's painting one of the biennial's highlights. But shortly after African American artist Parker Bright began blocking the work from public view while wearing a handmade T-shirt reading "Black Death Spectacle," a coalition of artists and art-industry figures signed onto an open letter––penned by artist Hannah Black and ultimately purged of all white signatories––that called not just for the piece's removal from the museum and the market, but for its literal destruction. Although the letter was later retracted, the firestorm quickly incinerated the wooden gears of the art industry's PR machine, as the Whitney and Schutz's New York gallery, Petzel, "each said it was the other's responsibility to field press requests," according to writer Antwaun Sargent (whose piece about the scandal stands as the most thoughtful and even-handed one I've read to date).
On Wednesday, though, the story twisted like a 1950s sock hop, when an articulate and woke a.f. letter signed with Schutz's name implored the WhiBi's curators to accept the protestors' demands for the "immediate removal" of "Open Casket"… only for the message to be exposed as a hoax minutes later. Yet even in the brief span between its release and its exposure as fiction, the "Schutz" letter—possibly the art industry's first descent into the topical quagmire of fake news—was published by Artsy, Frieze, and The Huffington Post, among other verticals.
From the business side, then, one moral of this story is that the industry generally isn't prepared yet for the rapid pace of scandal-gone-viral. True, even major corporations make (egregious) PR gaffes, and the traditional media has proven no less susceptible to speed-induced errors at times. But whether the various press failures made visible by "Open Casket" were due to an antiquated belief that contemporary art is still a social-media-proof refuge of calm contemplation, or simply a reflection of art's persistent status as (mostly) a cottage industry, they suggest to me that, if and when the Schutz truly hits the fan for many industry players, a high-level spokesman (or at least some solid media-training) may be the difference between skating away clean and getting indelibly splattered. [Hyperallergic]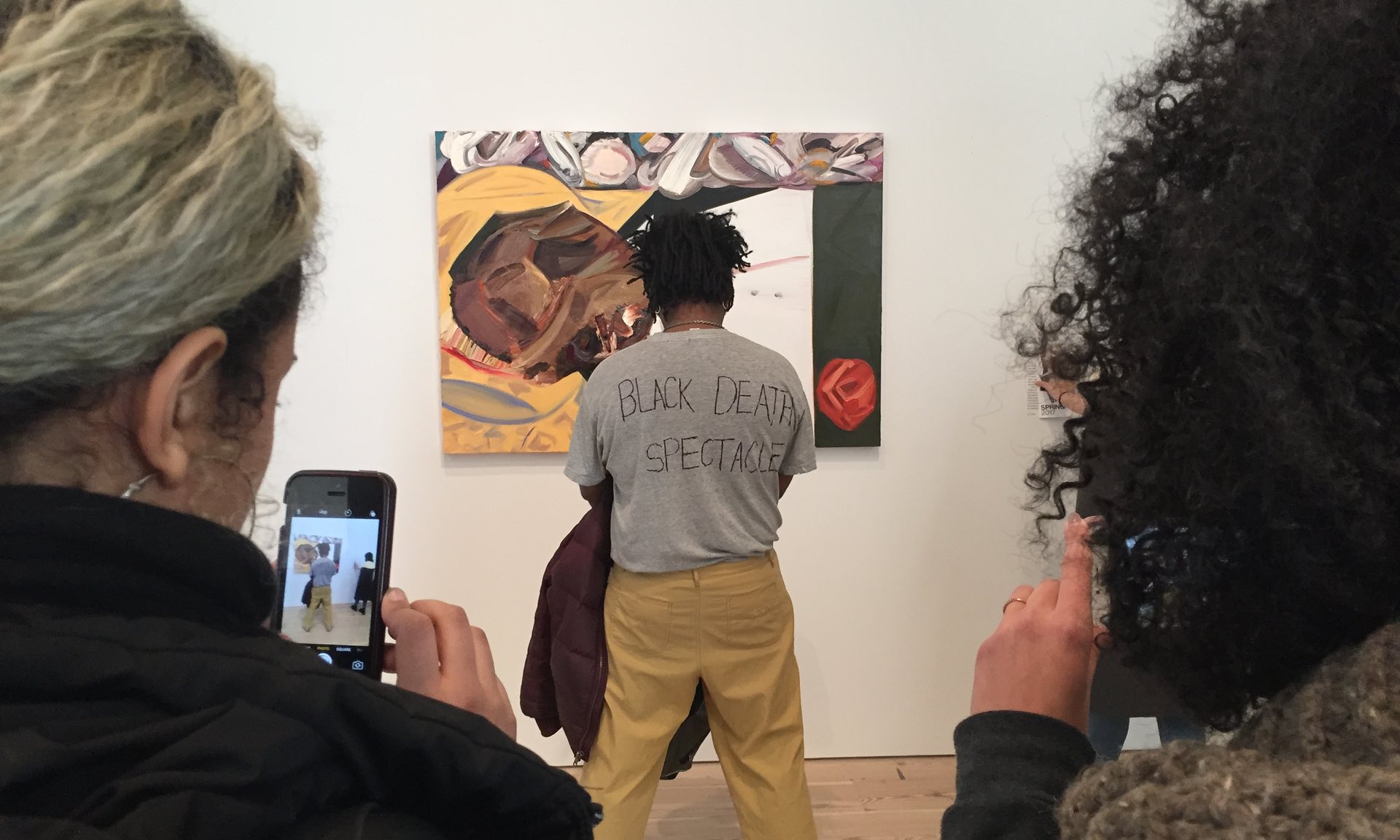 Image via The Guardian
THE SPACE RACE
Last but not least, I'll end this edition by inaugurating what may become a regular postscript to The Gray Market's weekly recaps. The concept of "The Space Race" is simple: to consistently capture the intensifying consolidation of the gallery/dealer sector by documenting which sellers expanded or contracted (sometimes into nothingness) during the previous seven days. Since polarization has in my view been the dominant theme of the art industry for the 11+ years I've worked inside it, keeping a dedicated real-time log of the activity might help us visualize the changes as clearly as possible.
To my knowledge, this week gave us two galleries up and two galleries down. Pace announced that it would christen a second space in Hong Kong by year's end, while longtime single-location veteran Postmasters unveiled plans to bolster its Tribeca mainstay with a location in Rome geared toward facilitating pop-ups, special projects, and art-fair booths. On the negative end of the ledger, London's Vilma Gold announced its forthcoming closure, and fellow midlevel player Ibid signed the death certificate for its space elsewhere in the shadow of Big Ben. Ibid founder Magnus Edensvard claims he will maintain the business's Los Angeles location while seeking a new London space, plus launch "about four" annual projects out of an office somewhere in the English capital.
Notably, Edensvard justified his pivot with the quote of the week: "There's something in this model that feels outdated, and it's something that's unsustainable on our level." Of course, it's up to every reader to decide whether that's accurate, or whether it might just be an ironclad excuse for outcomes that Edensvard failed to adequately influence. But no matter where you come out on his feelings about systemic failure in the gallery sector, trust that you'll be hearing some version of it from plenty more sellers in the months and years ahead.
That's all for this edition. Til next time, remember: The truth tends to become whatever the most people—or at least, the most influential people—believe.