No longer a mere satellite to Frieze, 1:54 has become a main event in its own right, with high-profile art world names strolling around through Somerset House early on on preview day. Ahead of its first ever edition on the African continent, set to take place in Marrakech on February 24 and 25, 2018, we take a look at the most promising artists and spaces taking part in the fifth London edition of the fair.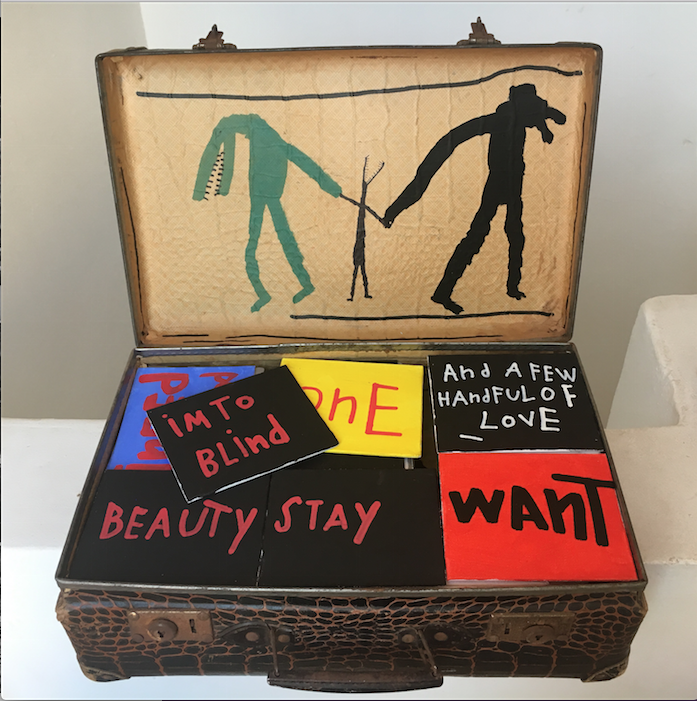 Mo Baala, from the series I Used To. Courtesy the artist and Galerie 127. (Before installation)
Among this year's newcomers, Galerie 127 (Marrakech) and Smo Contemporary Art (Lagos) boast the most engaging presentations. The Moroccan gallery couples photographs by Carolle Benitah and Denis Dailleux — both revisiting family photography in unexpected ways — with works by a younger generation of artists: Mo Baala, Hicham Gardaf and Safaa Mazirh, all born in the second half of the 1980s; through photography and collages, the three self-taught artists attest to the vitality of the Moroccan art scene. For its part, Smo Contemporary art, which works without a permanent space, "showcasing contemporary art in non-traditional places", also brings to London younger artists dealing with issues related to the phenomenon of migration and the crossing of boundaries (Olumide Onadipe, b. 1982) or laying bare the process of creation in its relationship with the artist's own identity. (Nengi Omuku, b. 1987 and Taiye Idahor, b. 1984)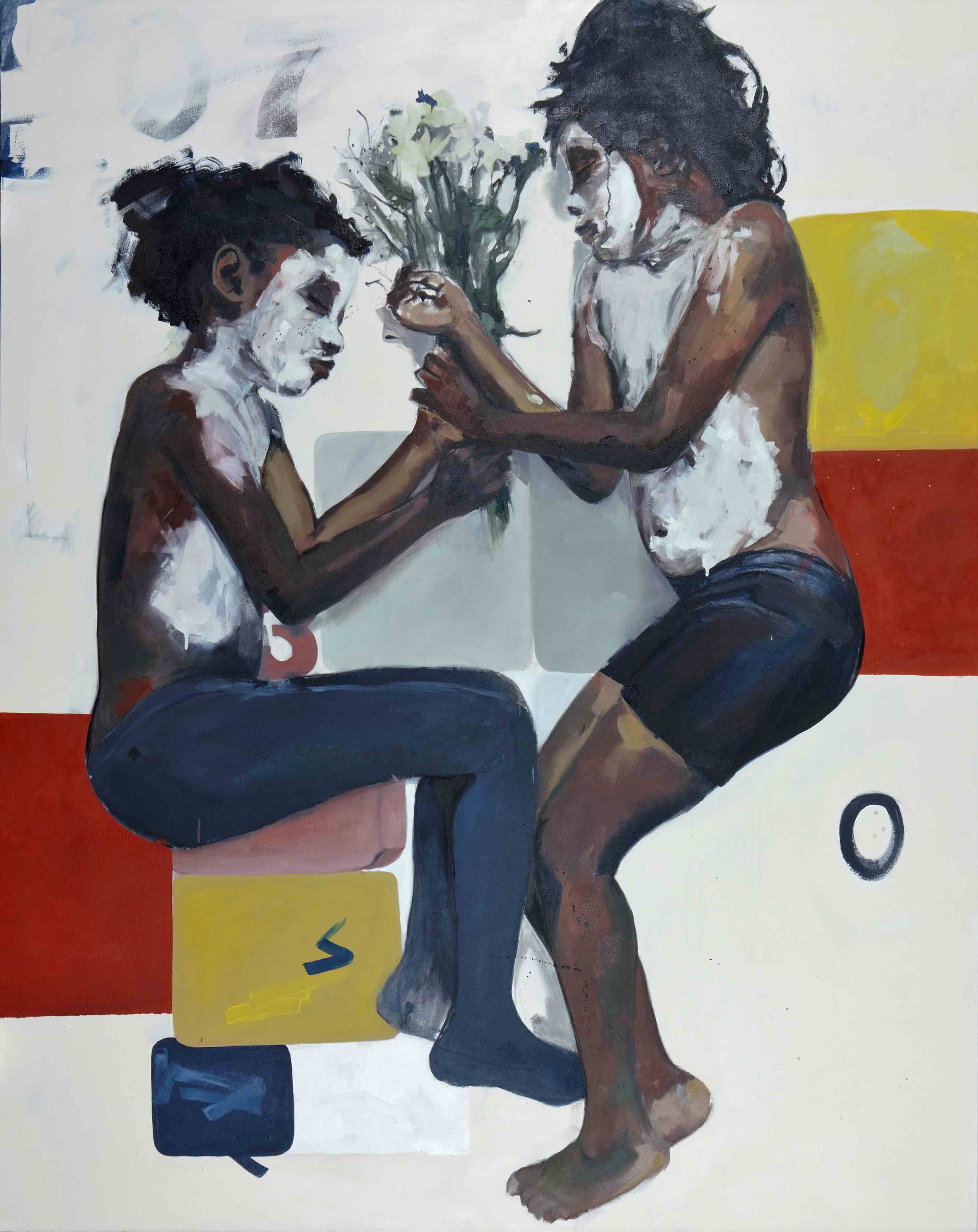 Kudzanai-Violet Hwami, Epilogue [Returning to the Garden], 2016 oil and acrylic on canvas 214 x 170 cm. Courtesy of Tyburn Gallery.
Over at Tyburn gallery, (London) the only painting by Kudzanai-Violet Hwami on show (Dance of Many Hands, 2017) sold well before the beginning of the fair, but it is definitely worth the detour; this large oil and acrylic of canvas, with its magnetic orange background, has the charm of a museum piece. Luckily, a solo show by the artist, her first in the UK, will open at the gallery's West End space this coming Friday. Also born in 1993, Bronwyn Katz is showing with Officine dell'Immagine works at the crossroads of installation and sculpture. Her dismembered beds — she mainly uses wires and salvaged mattresses as her working materials — evoke an absence, as the dissected pieces of furniture are a statement to the process of creation, one that consists mostly of taking away.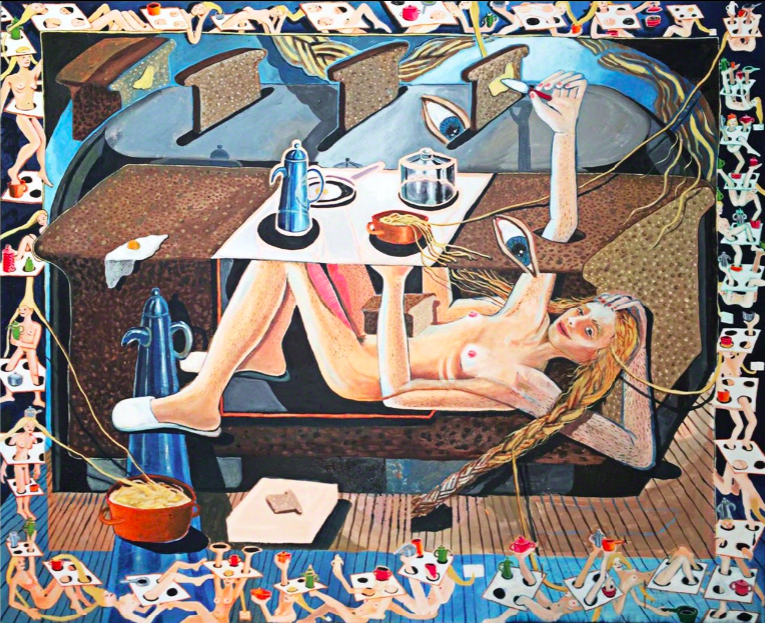 Marlene Steyn, Self raising hour, 2017, Oil on Canvas, 140 × 170 cm, Courtesy of SMAC Gallery
As far as painting goes, Marlene Steyn's (b. 1989) Self Raising Hour at Smac Art Gallery (Cape Town) is a true gem, a work intertwining several aesthetic traditions, from surrealism to pop art. For Intissar Belaid, (b. 1984, on show at Agorgi gallery, Tunis) visual art is somewhat of a second vocation — between 2009 and 2012, she studied to become a filmmaker. Her works, mostly embroidery and painting on fabric, convey the urgency of our frantic contemporary life and its restlessness; in the words of the artist "my body absorbs the world", and her works do too, by extension. For his part, Slimen Elkamel (b. 1983) and his large canvases present an iconography deeply rooted in the artist's personal experience, evoking at the same time the rural surroundings of his youth and the multiplicity of stimuli that inform our everyday reality.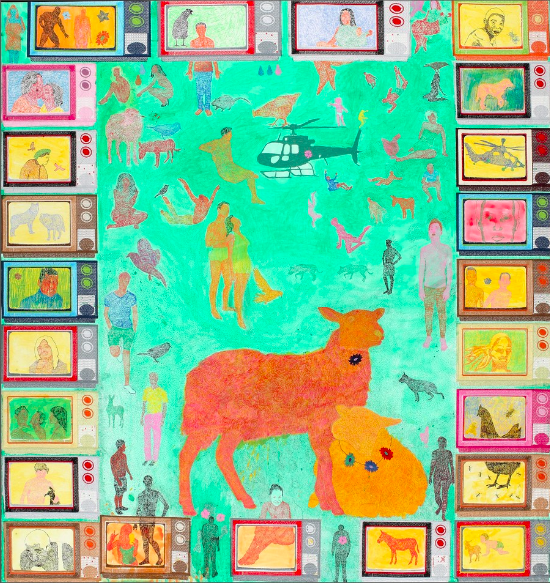 Slimen Elkamel, Festive, 2017 Mixed medias 156 x 156 cm. Courtesy of AGorgi Gallery.
Also from the continent, AFRONOVA (Johannesburg) gallery features Lebohang Kganye, (b. 1990) whose inkjet prints look almost like stills from slightly surreal performances of domesticity, and Lawrence Lemaoana with one of his signature graphic fabric works, Demo Crazy, (2017) a clear dig at the very concept of democracy, which has often revealed itself as no more than a craze demonstration with a lot of blood on its hands.
Lebohang Kanye, O emetse mohala, 2016 Inkjet print on cotton rag paper 64 x 90 cm Edition of 5 + 2AP. Courtesy of AFRONOVA GALLERY.
At a time when we are still grappling with an overarching definition of "Contemporary African Art", 1:54, with its carefully chosen selection of galleries, continues to attest to the diversity of art produced in the continent. Walking through the halls of Somerset House, it is now very clear that critical discourses must move beyond generalizing terms to embrace the variety and range of works proposed here.
1:54 London is at Somerset House between October 5 and 8.