Young artists might struggle to find gallery representation, and mid-tier galleries battle with ever-increasing rent prices and astronomical fair participation costs. On the other hand, dealers such as Larry Gagosian, David Zwirner, Dominique Lévy and Thaddaeus Ropac own thousands square meters of exhibition spaces across the world, where they exhibit and sell, among other things, works by a handful of artists they represent jointly.

But when it comes to the art world's Power 100, artist-dealer relationships are often fickle and volatile. If galleries have always had a roster of represented artists, art world superstars are also developing their networks in all the art capitals, establishing relationships with different dealers in various markets worldwide, and even — increasingly — in the same city. Artists such as Jeff Koons, Gerhard Richter, Yayoi Kusama, Richard Prince, Damien Hirst and Tracey Emin to name just a few, have in fact struck deals with various galleries worldwide, which has led to both controversial splits and highly-publicized reconciliations.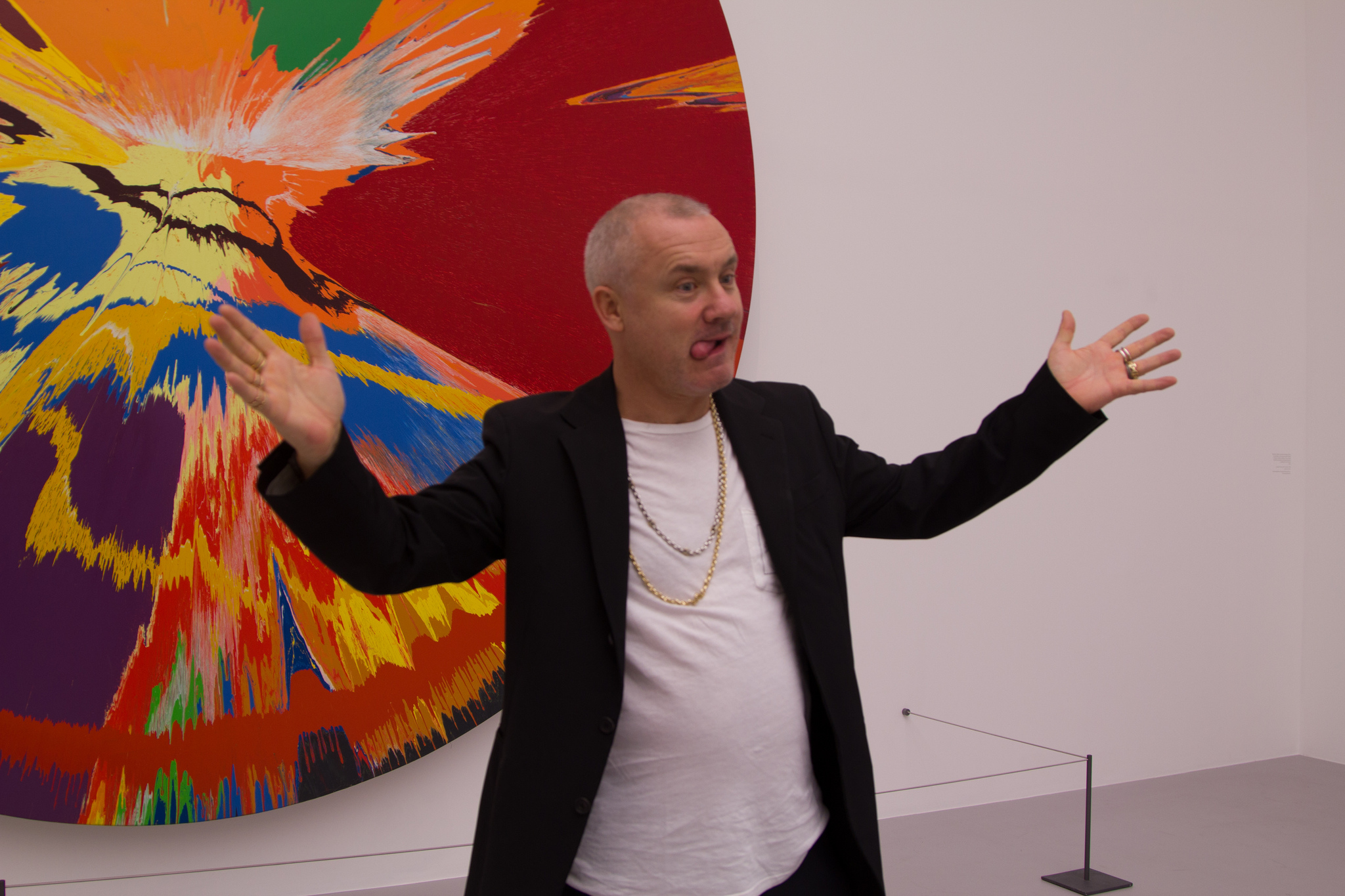 Damien Hirst at Doha 2013. Credit Gazanfarulla Khan Suivre.
The now somewhat outdated idea of exclusive representation has largely left room for more flexible agreements, changing the artist-dealer relationship irreversibly. Artist Frank Stella, for instance, is represented by both Dominique Lévy and Sprüth Magers — two of the world's most successful commercial galleries. Jeff Koons has exhibited with both Lévy and Gagosian and Yayoi Kusama, represented by Victoria Miro, has also worked with Gagosian, Casterline|Goodman and David Zwirner.

But how do these relationships work out? When millions of dollars are at stake, it is easy to see why dealers are reluctant to give up on exclusivity and collaborate with one another. Richard Prince has recently cut ties with Gagosian, apparently over issues of exclusive representation, but the gallery welcomed back Damien Hirst last April after a three-year hiatus — the artist who bypassed Mr. Gagosian and sold work directly through Sotheby's back in 2008, all the while setting unprecedented sale records.

For artists, signing up with different international galleries affords enormous advantages: before Prince split from Gagosian, the gallery appeared as defendant in a series of lawsuits filed against the artist over his controversial appropriation practice. "Multi-representation" can also give artists greater visibility in locations that are relatively far from the major market hubs. Despite being represented through his main galleries, (David Zwirner, Maureen Paley and Daniel Buchholz) artist Wolfgang Tillmans has exhibited with Tel-Aviv's Sommer Contemporary Art: "We introduced him to the local audience and managed to have his works bought by some of the major Israeli collectors, including the Israel Museum." says Irit Fine Sommer, founder and owner of the gallery. In an extremely competitive art market, "multi-representation" can be favorable for both parties, with galleries seeing their business grow as their artists enjoy visibility and exposure on an international market. Janet Borden, has worked with photographer Martin Parr for more than twenty years, "Martin is his own industry, so everything he does either on his own or with another gallery augments what we are doing. He is also wonderfully loyal," she says. "The advantage to multi-representation is that it takes some of the pressure off our small gallery to be and do everything, so we can concentrate on what we do best."


Jonathan Stephenson of Rocket Gallery, has represented photographer Martin Parr for almost twenty years, and gave him his first commercial exhibition in London in 1997. "While Rocket does not have 'exclusivity' with Martin," something that Martin is suspicious of in all areas of his work, "we do control and administer a substantial part of the market for his work". Over the years, Rocket Gallery itself has actively sought to establish relationships with a number of galleries worldwide to boost the artist's international exposure, from Rose Gallery in Los Angeles to Studio Trisorio in Naples: "By 2002 we started to not only have exclusive control of the UK market but also Martin had vested in us the right to collaborate with other galleries around the world."

In the $51 billion art market, Martin Parr's example represents quite a unique scenario and Rocket Gallery and Janet Borden agree on the need of establishing long-term relationships with artists: "by working with an artist for so long, one builds up immense knowledge of the artist's career and oeuvre. This undoubtedly informs the way that one can put over the work to potential collectors" says Stephenson, and Borden agrees, "my personal support and understanding of the artist's work is key to the relationship, as well. These folks aren't just making widgets to sell."
Martin Parr and his wife at an opening at Janet Borden, New York. Courtesy of Janet Borden.

But for every Martin Parr there is a Damien Hirst doing things his own way — as much as there are galleries that "milk (artists) for a few years and then spit them out!" as Stephenson candidly reminds. When Stephenson first approached Parr in 1996, he cold-called him on his telephone number, then listed on the Art Review, an anecdote which alone attests to the enormous changes the art market has undergone over the last two decades, during which alternative models, joint representation, online galleries, livestreamed auctions and whatnot have surfaced.

There are, of course, numerous exceptions to multi-representation. Recently, photographer William Eggleston, who has exhibited with galleries including Gagosian, Carolina Nitsch and Victoria Miro over six decades, has signed exclusively with David Zwirner. Significantly, most of the galleries we reached out to discuss exclusive representation have remained silent. Whatever the reason, Janet Borden sheds some light on the issue, "My primary interest is the artist and the artist's work, so there's plenty for everyone. I have very little of the megalomaniac in me, so I don't need exclusivity."