What to see in Paris this summer
France is infamously defined by its sleepy summer months. The habitual vacating of city centres in favour of the coast and the countryside often mean that galleries and museums close their doors as Paris (and other arts hubs) empty out. However there are a few spaces that keep running, and the August exodus can be an opportune moment to visit the city's exhibitions with minimal crowds.
Born in Tunis in 1987, artist Ismail Bahri is presenting a series of eight video works at the Jeu de Paume — in keeping with the institution's video and photography focus — each articulated around the idea of the meeting of elements. One such video sees a drop of water pulsating against the papery skin covering a vein on a hand. The exhibition functions on the minute detail of such small interactions, forcing us to zoom in and to slow down. Divided into four phases: Refocusing, Slowness, Insistence and Eclipses, another work observes the crumpling of torn sheets of magazines, the ink migrating from the page to the fingers. The small repeated actions, framed by the darkness of the space are immersive and strangely calming.
Sondes (2017), Ismaïl Bahri, Vidéo HD 16/9, 16 min. Production du Jeu de Paume
Dénouement (2011) Ismaïl Bahri, Vidéo HD 16/9, 8 min
Billed as the conception of "an imaginary landscape, a monstrous garden with perishable forms growing in it, as well as germinating surfaces, protuberant organisms and flat figures," the group show "Le Reve des Formes" (translated as the dream of forms) feels like, as one might imagine, an oneiric, sometimes grotesque, yet poetic science experiment. Rather than the rationalized mechanics of science, the technology and the chemistry at work in this exhibition gives way to a mystical world with a large scale video work by Hicham Berrada & Sylvain Courrech du Pont & Simon de Dreuille, documenting the development of wave patterns and the formation of sand dunes, dialoguing with Francis Alys' When Faith Moves Mountains a video work following the work of 500 volunteers on the edge of Lima, gathering to move a sand dune a few inches.
Dora Budor, Sonoro, 2016, Courtesy of the artist and New Galerie Paris
Hicham Berrada & Sylvain Courrech du Pont & Simon de Dreuille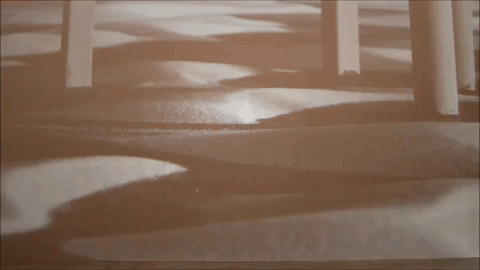 Hicham Berrada & Sylvain Courrech du Pont & Simon de Dreuille
This summer Kadist's small exhibition space plays host to Lebanese artist Haig Aivazian's sprawling installation 1440 couchers de soleil par 24 heures. The result of a residency program with Kadist, Aivazian's work is centred around surveillance, policing and sports culture, with the French premiere of his 2009-2013 film How Great You Are O Son of the Desert! (part I) being screened. The video piece uses the figure of French footballer Zinedine Zidane as a vehicle to a larger look at disaffected French youth as a collective presence, resulting in an emotive and highly political visual commentary. The work undertaken by Aivazian during his residency will contribute to a second installment of this video piece based on interviews carried out in the city with political and sporting institutions.
KAF-2017-Haig-Aivazian-35